Top 10 Best Progressive Jackpot Slots in Canada
There are hundreds of online progressive jackpot slots available, so knowing which games are best can be difficult.
Here, you'll find a list of 10 of the best jackpot casino slots in Canada.
The progressive jackpot amounts were accurate at the time of writing, and might have a higher value or a lower one at present!
1. Mega Moolah from Microgaming Dec 2006 – $7,420,986.89
| | | | |
| --- | --- | --- | --- |
| RTP | 88.12% | Min Bet | $0.01 |
| Volatility | Low | Max Bet | $6.25 |
| Paylines | 25 | Max payout | 1,800x (base game) |
Mega Moolah, a Safari-themed progressive jackpot from Microgaming, is perhaps the most famous of all.
While it may not be the best anymore, this slot continues to pull in many players and has paid out considerably over the years. It's also arguably the slot that popularised progressive jackpots.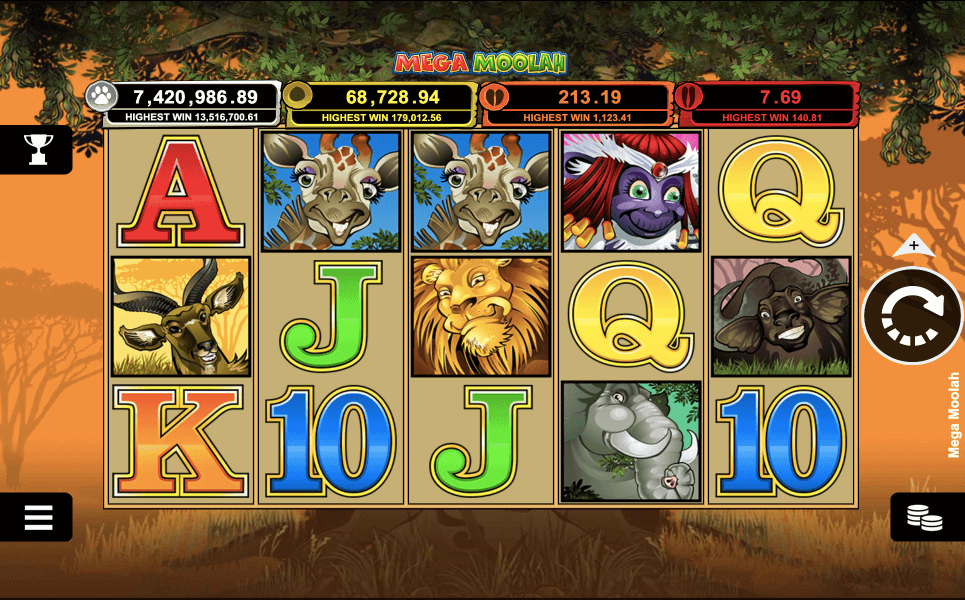 2. Age of Gods God of Storm from Playtech May 2017 – $210,201
| | | | |
| --- | --- | --- | --- |
| RTP | 96.14% | Min Bet | $0.25 |
| Volatility | Medium | Max Bet | $250 |
| Paylines | 25 | Max payout | $125,000 (base game) |
The Age of Gods slot series from Playtech has been popular and captivated many players over the years.
Set in Aiolia, Age of Gods: God of Storm comes with detailed graphics, a higher-than-usual RTP and several interesting bonuses like wild re-spins, multipliers, and four very impressive progressive jackpots.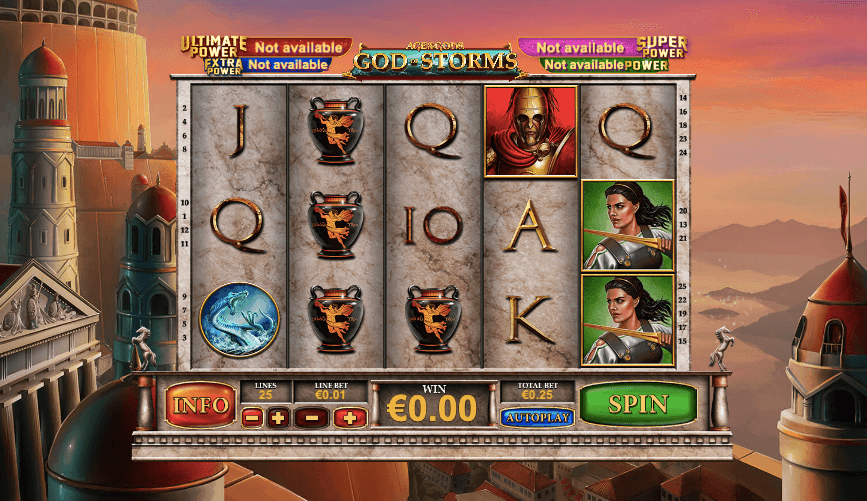 3. Queen of Alexandria WowPot from Microgaming April 2021 – $28,654,825
| | | | |
| --- | --- | --- | --- |
| RTP | 92.50% | Min Bet | $0.10 |
| Volatility | Medium | Max Bet | $200 |
| Paylines | 10 | Max payout | 1,000x (base game) |
Created through a collaboration between Microgaming and Neon Valley Studios, Queen of Alexandria WowPot is a progressive jackpot slot that will transport you back to ancient Egypt.
The WowPot comes in three progressive jackpots; Mini, Minor and Major.
Apart from the jackpot, there is a maximum win potential of 1,000x, which, when combined with the max bet of $20, can land you the generous prize of $200,000.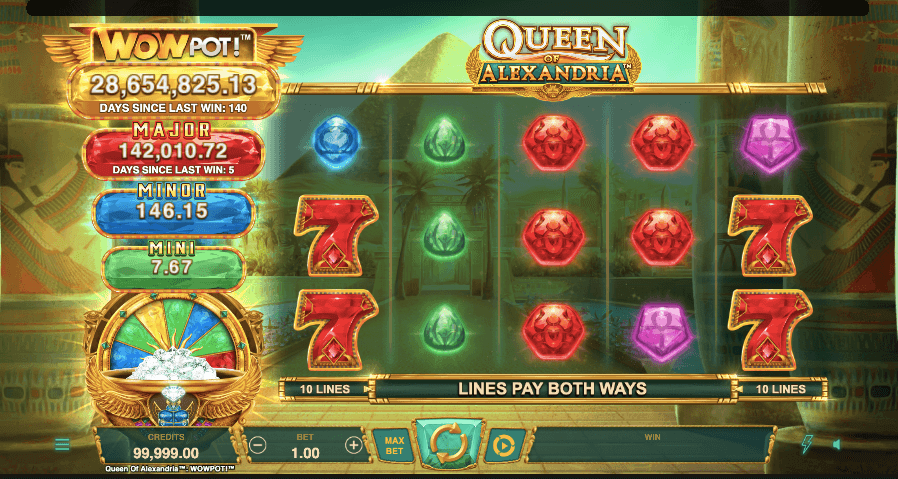 4. Divine Fortune from NetEnt January 2017 – $10,000
| | | | |
| --- | --- | --- | --- |
| RTP | 96.59% | Min Bet | $0.20 |
| Volatility | Medium | Max Bet | $100 |
| Paylines | 20 | Max payout | 600x (base game) |
Divine Fortune is a classic amongst jackpot slots! Released by NetEnt years ago, the Ancient Greek-themed jackpot slot packs quite a punch!
This game is known for its expanding Pegasus wild symbol, free spins, and the possibility to win two smaller jackpots in addition to the top prize.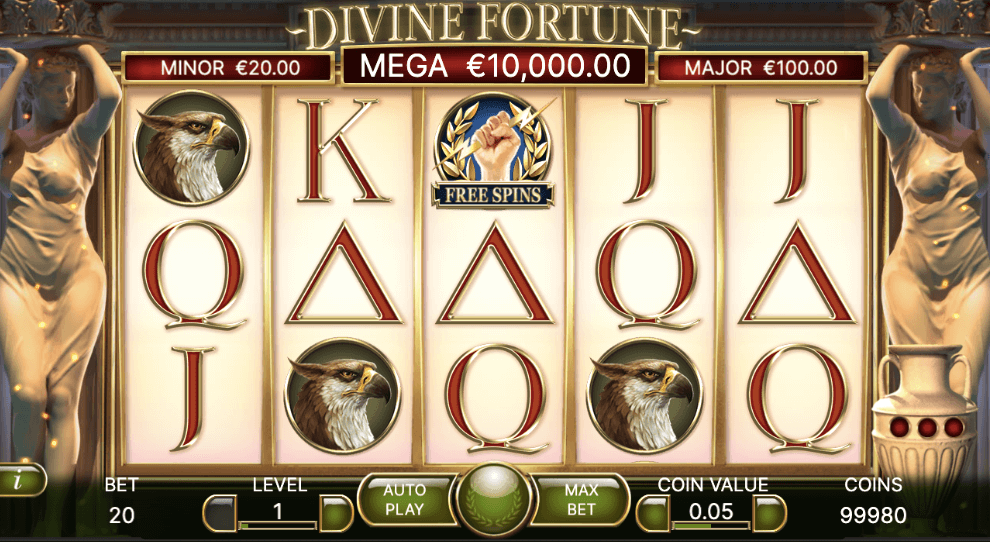 5. Funky Fruits from Playtech May 2014 – $5,000
| | | | |
| --- | --- | --- | --- |
| RTP | 94% | Min Bet | $1 |
| Volatility | Medium | Max Bet | $10 |
| Paylines | Cascading Wins | Max payout | 5,000x |
Funky Fruits by Playtech is a unique slot with no paylines and a progressive jackpot to make things even more interesting.
If the jackpot happens to elude you, worry not, you still stand the chance of taking home the lucrative price of 5,000x your bet!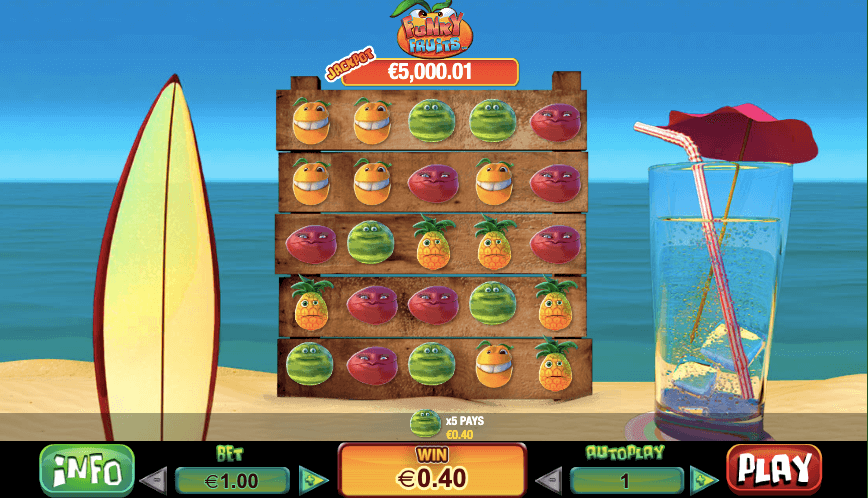 6. Elysian Jackpots from Yggdrasil Feb 2023 – $15,000
| | | | |
| --- | --- | --- | --- |
| RTP | 96% | Min Bet | $0.10 |
| Volatility | Low | Max Bet | $40 |
| Paylines | 20 | Max payout | 1,265x (base game) |
Created by Yggdrasil, Elysian Jackpots is a Norse-themed slot that has earned its place amongst our top progressive jackpot slots!
To start with, there are 5 progressive jackpots you can land and a free spins jackpot round you want to keep an eye out for.
The top prize during the base game is not shabby either and can deliver up to 1,265x your stake.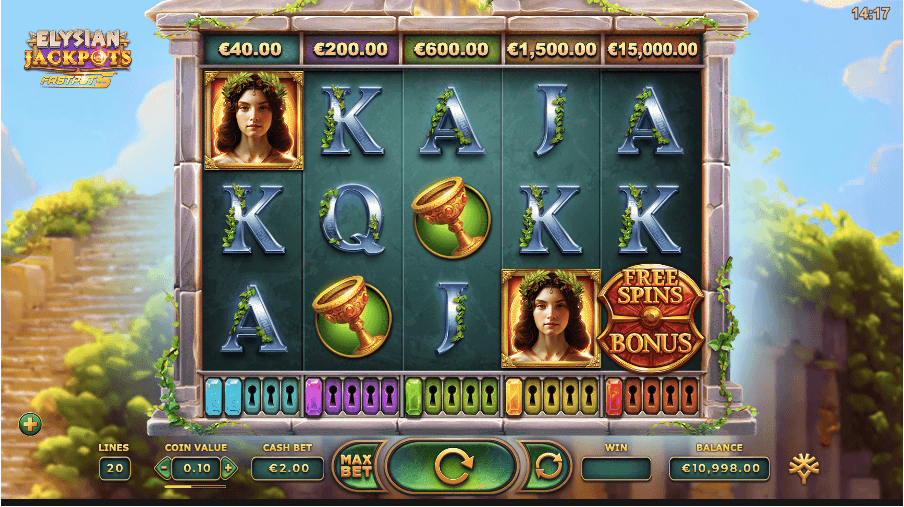 7. Sisters of Oz WowPot from Microgaming September 2020 – $28,655,261
| | | | |
| --- | --- | --- | --- |
| RTP | 92% | Min Bet | $0.20 |
| Volatility | Med | Max Bet | $300 |
| Paylines | 20 | Max payout | 720x (base game) |
Another WowPot slot by Microgaming, Sisters of Oz WowPot is also the child of Triple Edge Studios.
While the four progressive jackpots grab a lot of attention, so do the colourful graphics featuring the four witch sisters.
But this slot comes with more, rather than less: wilds, stacked symbols, and free spins.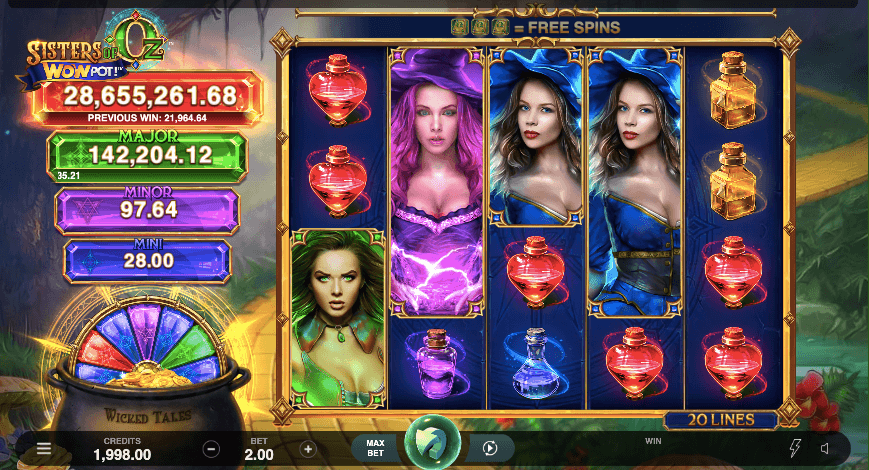 8. Temple Tumble 2 Dream Drop from Relax Gaming May 2022 – $1,800,023
| | | | |
| --- | --- | --- | --- |
| RTP | 94.80% | Min Bet | $0.20 |
| Volatility | High | Max Bet | $100 |
| Paylines | 46,656 | Max payout | 10,045x (base game) |
Relax Gaming's Temple Tumble 2 Dream Drop is an adventure slot that takes players on a hunt through an ancient temple in search of lost treasures.
This game has a 6×6 grid and an unusual 46,656 paylines. You'll find wild symbols, free spins, multipliers, adaptations, and of course, the potential to win a progrssive jackpot.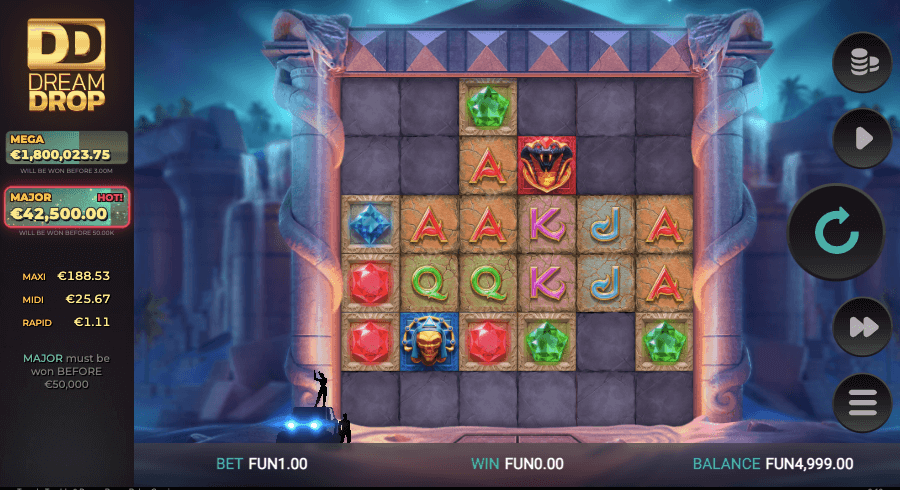 9. Absolootly Mad: Mega Moolah from Microgaming May 2020 – $5,339,580
| | | | |
| --- | --- | --- | --- |
| RTP | 92.02% | Min Bet | $0.20 |
| Volatility | Medium | Max Bet | $50 |
| Paylines | 243 | Max payout | 2,343x (base game) |
What started out with Mega Moolah has turned into a whole series of games that includes the highly popular Absolootly Mad: Mega Moolah.
Another jackpot slot by Microgaming, Absolootly Mad: Mega Moolah is inspired by the story of Alice in Wonderland.
The game offers solid visuals and gameplay and is a worthy addition to the series, that brings to the table wilds, re-spins, multipliers, rolling reels, and best of all, a progressive wheel capable of landing you one of the 4 jackpots attached.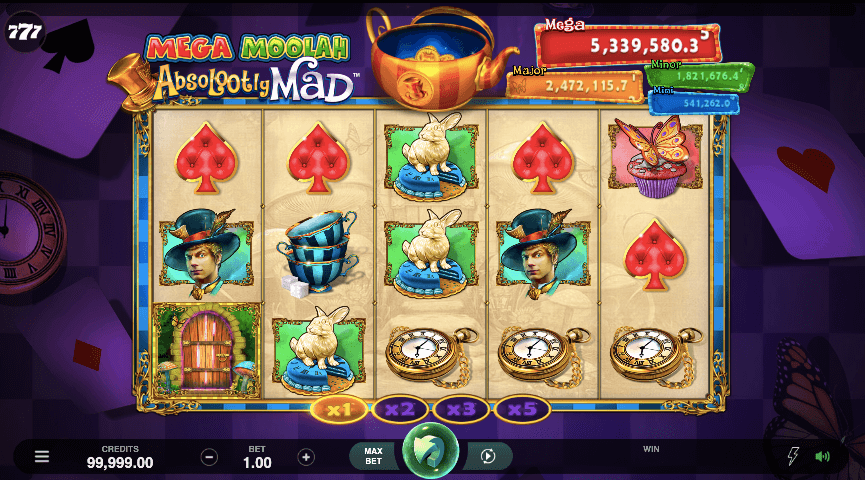 10. Immortal Romance Mega Moolah from Microgaming June 2021 – $7,408,165
| | | | |
| --- | --- | --- | --- |
| RTP | 93.40% | Min Bet | $0.30 |
| Volatility | High | Max Bet | $6 |
| Paylines | 243 | Max payout | 12,150x (base game) |
Another game by Microgaming, Immortal Romance was, and still is, a very popular game. And it was this popularity that inspired Immortal Romance Mega Moolah.
Perhaps one of the most popular themes of the Mega Moolah series, this slot is vampire themed and comes with some exciting base game features in the shape of wild symbols and four different modes of free spins.
Just like all the other Mega Moolah slots, this game comes with the typical four progressive jackpots; mini, minor, major and mega.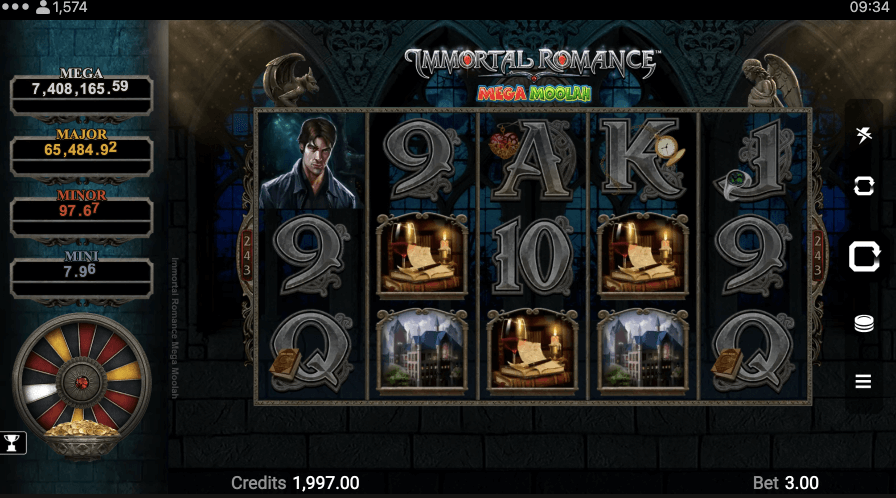 Latest Progressive Jackpot Slots
The major drawback with many of the classic jackpot games is that they definitely don't look as good compared to modern slots.
If you prefer a jackpot slot with a modern design, here are some recent releases to try.
Beellionaires Dream Drop from Relax Gaming
Beellionaires Dream Drop features colourful, vibrant graphics with a light-hearted feel. This slot has plenty of bonuses like free spins, royal re-spins, several coin-based features and is enjoyable even without the jackpot.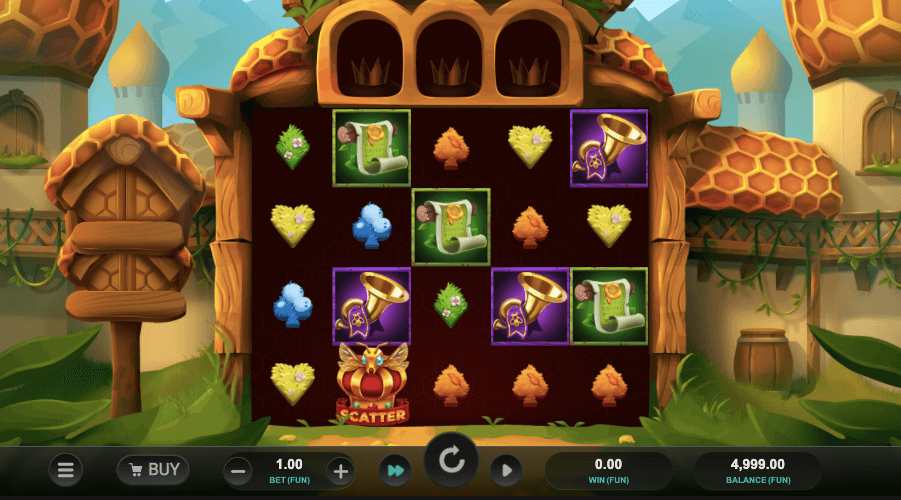 Cleopatra Grand from IGT
The original Cleopatra is perhaps one of IGT's most famous slots. Now this fan favourite returns with updated visuals and the chance at a juicy progressive jackpot.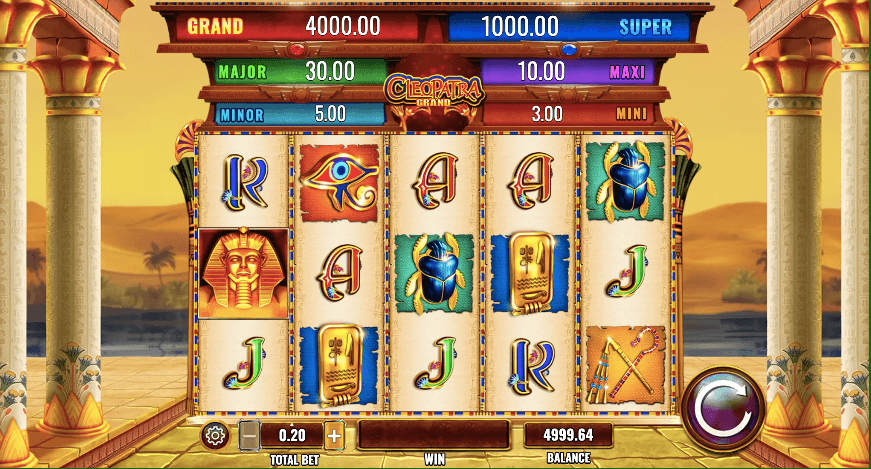 Wolf Gold Power Jackpot from Pragmatic Play
Pragmatic Play's popular Wolf Gold is back with a redo that incorporates several progressive jackpot slots.
Wolf Gold Power Jackpot comes with four progressive jackpots triggered by a Jackpot Bonus Feature.
Apart from the jackpot, expect free spins, money re-spins and max win potential (excluding jackpot) of 2,500x your bet.
What are Progressive Jackpots?
Progressive jackpot slots follow essentially the same gameplay and format as other online slots.
The only significant difference is that they come with a jackpot that you can win.
There's a difference, though, between fixed jackpots and progressive ones. With a progressive, it continues to grow until someone finally wins.
Why Play Progressive Jackpot Slots?
Jackpot slots are extremely popular, and with the chance of getting a million-dollar jackpot, we can see why people might give one a chance.
While the jackpots might often run into the millions, the best part is that someone always ends up triggering the jackpot and taking home all that money!
Progressive Jackpot Slots vs. Regular Slots
Let's have a look at the main advantages progressive slots have over regular ones.
progressive jackpot slots
regular slots
pros
– The jackpot offers a far bigger payout than any regular slot
– The base game still typically has several bonus features
– There can be several different jackpots to win
– It'll often have all the major features a regular slot would have
– Higher RTP on average
– The number of titles to choose from is far higher
– The top payout is well-known and doesn't vary
– Can have other bonus games or features
cons
– RTP is usually lower than regular slots
– The selection of jackpot slots isn't as wide as normal slots
-The maximum payout potential is far lower
As you can see above, there are several advantages to playing a jackpot slot. Even if you don't win the main jackpot, oftentimes, there are smaller ones available which can be a little easier to get.
Outside of the jackpot altogether, these can offer decent base game payouts like any other slot. However, the RTP does tend to be a bit lower as part of each bet is used to fund the jackpot itself.
Are Progressive Jackpot Slots Safe to Play?
Absolutely! Progressive jackpot slots are as safe as any other slot.
Jackpot slots still come from familiar game providers that make other games like NetEnt, Microgaming, Playtech, Yggdrasil and others.
All of these providers are fully licensed to deliver casino gaming. On our site, you'll only find licensed casinos and games featured.
Are Progressive Jackpot Slots Fair?
It's no secret that winning the jackpot can take plenty of luck, and some players may question if it's possible at all.
All slots, including progressive jackpots, come from developers that are licensed and regulated to ensure fairness.
You'll also see other companies like eCOGRA that test the RNG (Random Number Generator) of games. This ensures these slots are fair and completely random (ie. not rigged). 
How Do I Win the Jackpot in Progressive Slots?
Winning of course takes a lot of luck, but in most cases, there's a specific event that needs to take place.
Many titles have a "jackpot game," which you need to unlock through a certain number of bonus symbols. Other times you may spin a wheel, and if it lands in the right spot, you win.
What's also popular is collecting a certain number of matching symbols (typically five) over the course of the game in order to win. In each game, you can open up the information page and see exactly what's required.
While playing jackpot games you need to remember that jackpot slots are games of chance, and only by chance can you trigger or land the right number of symbols to land the jackpot.
Best Progressive Jackpot Slots for Mobile
Most players today prefer to play on mobile, but unfortunately, many of the classic jackpot slots are quite old and may not be fully compatible with smartphones. Here are some more modern titles you can try, which work smoothly on mobile devices.
Dream Drop Diamonds from Relax Gaming
Temple Tumble 2 Dream Drop from Relax Gaming
Beast of Wealth from Play'n GO
Best Progressive Jackpot Slots Providers
When it comes to progressive jackpot slots a few developers stand above the rest. These are three of the top game providers when it comes to jackpot slots in Canada.
1. Microgaming – maker of Mega Moolah
Microgaming can be considered the king of jackpot slots. It started with the first Mega Moolah, which then spun off into a whole Mega Moolah series. Besides that, it has developed plenty of other titles like Major Millions and King Cashalot.
2. NetEnt – maker of Arabian Nights
NetEnt is widely considered one of the best slot developers around. With titles like Arabian Nights, Mega Fortune, and Divine Fortune, it's produced many jackpot hits too.
3. Playtech – maker of Age of Gods
Playtech is another major slot developer that's no stranger to jackpot slots. Jackpot Giant, Pride of Persia: Empire Treasures, and Kingdom's Rise: Guardians of the Abyss are just a few examples.
Quick Tips on How to Choose the Best Jackpot Slots
While players can always go for one of the classics or favourites, perhaps you want to pick your own game or try something new. Here are some tips to help you decide which online jackpot slots you should try.
Difficulty to obtain the jackpot
Not all jackpots are equally easy to obtain. Some require you to go through several minigames or rounds for a chance to finally win. Others can be less complex, so it's important to see what the requirements for the jackpot are.
Look at the theme, graphics, sounds and overall feeling
The graphics and theme can contribute a lot to the enjoyment of a slot. A game with more modern graphics and a favourite theme will be far more exciting to play.
Check how high the RTP is
While online jackpot slots tend to have a lower RTP value than other slots, there are still some with an RTP of around 96% or higher. High RTP slots may offer better returns than those with lower values.
Is the bonus buy feature available?
Sometimes it's good to have additional options, like the ability to buy into the bonus round. While bonus buy slots don't usually come with a jackpot it doesn't hurt to check.
Find what bonuses are available
Games with more bonus features offer much more exciting gameplay and better opportunities for more payouts, including that elusive jackpot!
Read our reviews to get all the information you need
If you're not sure about which progressive jackpot slots to try, you can always check out our expert reviews to see what's recommended.
Progressive Jackpot Slots Continue to be Popular in Canada
Progressive jackpot slots are extremely popular and have come a long way compared to some of the classics.
Though the RTP and base game payouts tend to be lower than regular slots, many Canadian players still flock to online jackpot slots in the hope of winning that big prize.
In some cases, there are even smaller jackpots available that could be a little easier to win.
With a variety of themes and bonus features, these games still offer a ton of fun and excitement, even in the base game alone. With technology constantly advancing, jackpot slots in Canada will only continue to get better.
Frequently Asked Questions
Yes! Canadian laws do not prohibit online casinos from offering progressive jackpot slots. The same laws do not prohibit players from playing jackpot slots either.
Yes! Jackpot slots are provided by licensed and regulated game developers, who have their RNG audited regularly. Furthermore, make sure to always play with a licensed casino, either from Ontario if you live in the province, or the UK and Malta.
There are plenty of progressive jackpot slots to choose from, but our personal favourite remain Mega Moolah, Divine Fortune, Sisters of Oz WowPot, Funky Fruits, and the Age of the Gods slot series, among many others.
Progressive jackpot slots are games of chance, and it is really up to luck whether you can win or not! Furthermore, all jackpot slots come with a different gameplay and the jackpot trigger can be different for each one.
While playing with a bonus, the probability is that jackpot slots would be excluded. Check the terms and conditions of each offer for a list of the games you can use your bonus. Whether a jackpot slot is included or not depends solely on the operator and the promotion.
A progressive jackpot is not fixed but continues to grow with each bet that is placed on the slot. How much you can win highly depends on the amount the jackpot carries when it drops.