The Best Payout Casinos in Canada
The choice of online casino games is wide and the gaming experience in itself is fun – but a player's decision to register with an online casino finally boils down to one main purpose – to land wins.
Essentially – what is a payout exactly, and what constitutes a good payout? A payout is technically referred to in casino terms as an RTP (Return to Player) – which basically means the percentage amount a player gets back when landing a win.
For example, if you bet a C$100 and the game features a 97.5% RTP, then you get a C$97.50 back from your original bet. The 2.5% difference, in that case, would be the House Edge – which is the amount the casino would pocket.
All highly regulated casinos offer good payout options – but some online casinos in Canada excel more than others in their overall payout percentage. A generic fair and realistic RTP revolves around 96-98%.

BetVictor – 96.6%
BetVictor is a popular online casino brand that boasts licenses in both Ontario and Gibraltar, being able to accept players from across all of Canada.
This Canadian online casino has a slightly higher-than-average RTP of 96.6%. Despite only having a modest casino game selection of over 300 slots online, live casino games, and some table games, BetVictor does offer a generous welcome bonus offer.
Players in Canada that register for a new account with BetVictor will receive a 100% match bonus on their first deposit up to $1,000. This offer has a low wagering requirement of 35x as well!
What is considered to be a Good Payout in a Casino?
A good payout, or a good RTP (Return to Player), is an important constituent when playing. Why? Because it secures the highest amount that can be realistically paid back from casino to client – realistic in terms for both clients and casino.
On one hand, the client feels that they are getting the most from their money back, and on the other hand, the casino has to get a house edge that overall can serve as a profit for the casino as well. As already mentioned above – the small percentage earned by the casino is also referred to as a house edge.
An average good payout revolves around 96-98%.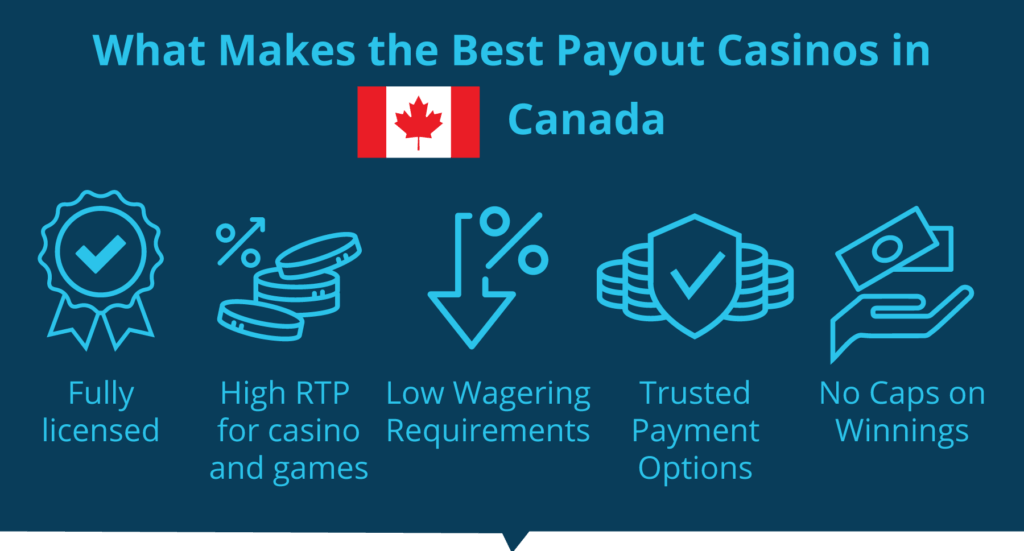 How We Picked the Best Payout Online Casinos in Canada
This is the list of what we checked when defining the best payouts for casinos.
Casino online best payout rates – RTP%
There are some online casinos in Canada that feature really high RTP percentages in their games – with some casinos even exceeding 99% RTP.
The latter however is rarer and it would only be profitable for casinos if they can counteract their low House Edge through other means – for example, if a game is popular the low house edge is balanced out by quantity. Another counteractive factor would be to lower RTPs in other games, to balance out the total average RTP for that particular casino.
Overall, all the best casinos fall under the good payout rates that range between 96-98%.
Globally trusted payment options
Having efficient and secure payment options in an online casino is basic as is water to rain.
For casinos in Canada to have good payment options means having trusted bank options such as Mastercard and Visa payments; popular e-wallets such as Skrill and MuchBetter; and finally, secure e-transfer options such as Interac.
Withdrawal fees
Landing wins is the final end purpose of why a player subscribes to a casino in the first place. So, withdrawing those wins and the fees involved are also crucial factors to what constitutes a good payout casino.
The best casinos in Canada offer easy and fast withdrawals – with the minimum or no withdrawal fees whatsoever.
Online casino licence and safety
For a casino to operate in Canada it has to be highly regulated by reputable entities. The Alcohol and Gaming Commission of Ontario is one of the most trusted licenses that serve as authority to the best payout casinos in Canada. Having a secure gambling license means that the casino has to meet certain standards and follow a certain protocol that would disallow rigged games or any scamming of your money.
Best Payout Casinos in Canada – Here to stay
It's the golden age of online gaming and as competition gets tougher by the day, casinos are becoming more efficient and accommodating to players. Having good payout options with a high RTP for example is a must to rank with the top online casinos in Canada.
Safety, regulation and data protection are also a top priority in today's digitalized world – and we made sure that the list we provided is inclusive of such company ethos.
Agility, ease of use and a good range of payment options are also basic as gaming companies are increasingly becoming more fluent with the players' needs.
frequently asked questions
A casino payout is also referred to as an RTP (Return to Player). basically means the percentage amount a player gets back when landing a win.
Licensed casinos would have to go through the necessary scrutinies that disallow rigged games and scamming of your money.
Mega Joker is an online slot that has an RTP of 99%! It's a progressive jackpot slot that pays out at random.