Divine Fortune Review
Are you wondering why Divine Fortune is still played and talked about years after release? It's not often that a slot game maintains its popularity; many come and go and are forgotten.
What we present here is a full l and detailed review of everything you can expect with Divine Fortune. Don't miss out on this exciting slot.
How We Reviewed Divine Fortune
With each game that we review, there are several important things to cover. We also know different players appreciate different qualities of the slot. Here's a brief look at what we check.
Symbols, Payouts, Volatility – We start with looking at the symbols in the game, their value, RTP, and how much you can expect to win consistently.
Bet Size – We test different coin sizes and bets across the full range.
Game Mechanics and Bonus Features – We play the game long enough to trigger all the major bonus features and witness how these work firsthand.
Graphics and Sound – We consider how well the visuals look and whether it does a good job of capturing the overall theme.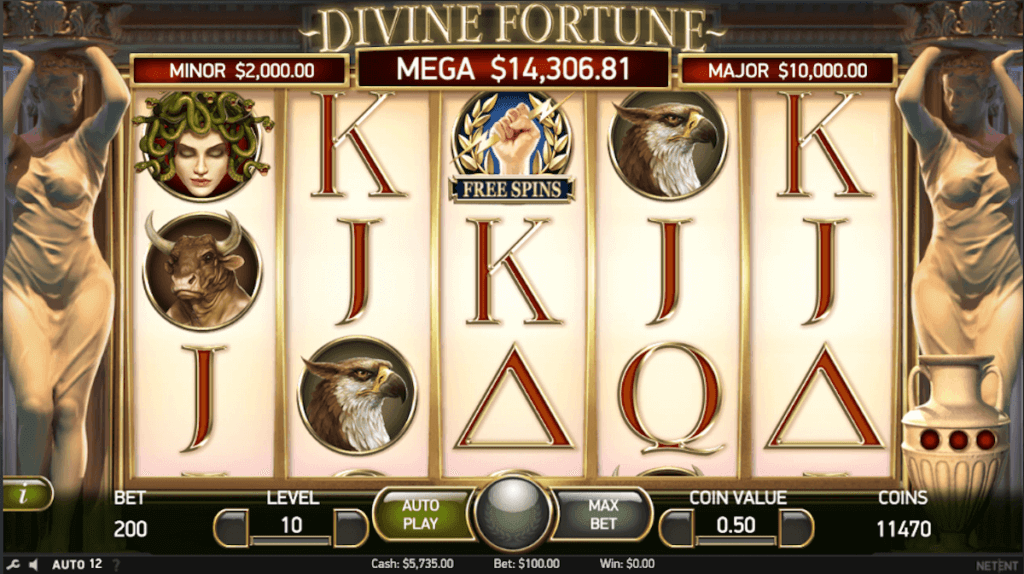 Divine Fortune Quick Overview
Here's where we'll talk about the numbers of Divine Fortune. Learn more about RTP, volatility, and related factors.
GENERAL DETAILS
Slot type
Video Slot
Number of rows
3
Provider
NetEnt
Reels
5
Divine Fortune is a five-reel slot with 20 paylines. The RTP is 96.56%, putting it well above the average value. It's even more impressive when you consider this slot has a jackpot too, and those tend to have lower RTP values.
The volatility is rated as medium by the developer, so it should be a fairly consistent slot with steady wins.
Game Mechanics and Bonus Features of Divine Fortune
Divine Fortune has five exciting features that can occur in the base game. Additionally, the free spins round also carries an extra surprise. The big attraction though is the jackpot bonus game.
| FEATURES | NO. | LIST |
| --- | --- | --- |
| BASE GAME FEATURES | 5 | Wild Symbols, Falling Wilds, Wild on Wild, Scatter Symbols, Free Spins |
| BONUS BUY FEATURES | 0 | There's no option to buy a bonus round |
| BONUS GAMES FEATURES | 1 | Jackpot Bonus Game |
Symbols and Features of Divine Fortune
You'll find each of the features Divine Fortune explained below. Let's start with the symbols first.
The symbols
The premium (high-paying) symbols include Medusa, the Nemean Lion, a Minotaur, and the Eagle of Zeus. The lower paying symbols are the royals A, K, Q, and J. Wilds are represented by the Pegasus icon. The scatter symbol is a hand holding a bolt of lighting.
Paytable
Here's a quick summary of how much each symbol pays:
| Symbol | 3 | 4 | 5 |
| --- | --- | --- | --- |
| Medusa | 20 | 80 | 600 |
| Nemean Lion | 18 | 60 | 400 |
| Minotaur | 16 | 50 | 300 |
| Eagle of Zeus | 14 | 40 | 200 |
| A | 7 | 18 | 80 |
| K | 7 | 18 | 80 |
| Q | 6 | 15 | 60 |
| J | 6 | 15 | 20 |
Falling Wilds
Falling wilds are an interesting twist on the regular wild symbols. Each time the wild appears, it falls down one row and triggers a respin. It wasn't unusual for us to sometimes get several extra spins in a row.
Wild on Wild
Wild on Wild is another feature where a wild symbol can expand to cover an entire reel. For this to trigger, a new wild symbol has to land behind a falling wild. If it happens, though, you'll see a large animated pegasus appear.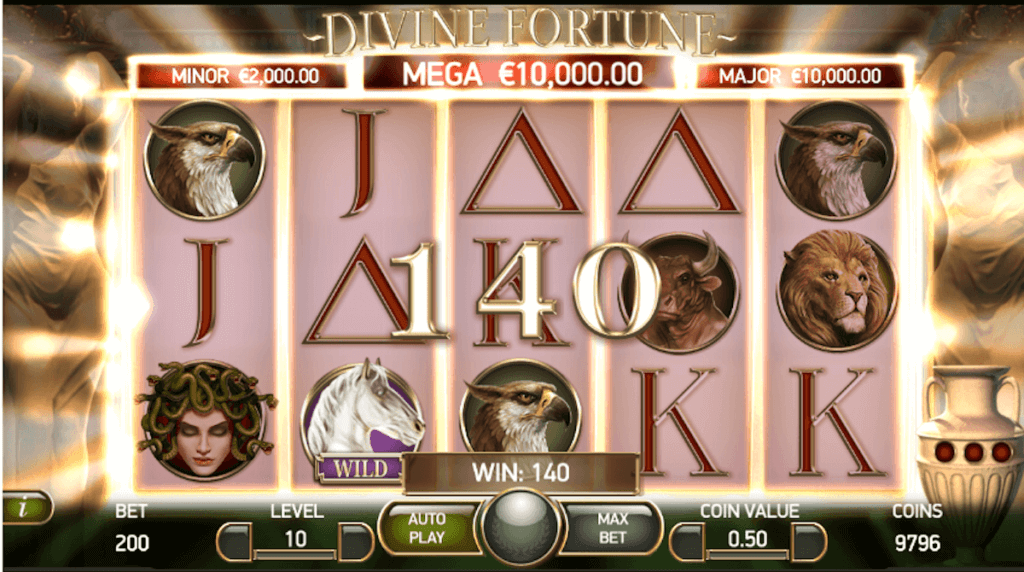 Bonus Buy Option
Unfortunately, Divine Fortune doesn't have the option to buy a bonus round.
Jackpot Bonus Game
Divine Fortune is a progressive jackpot slot and comes with the chance to win three different jackpots. You have the minor, major, and mega versions. To activate the bonus game, you have to collect three gold coins in the base game. 
Once you're in the bonus round, you'll need a full row of gold coins to win the minor jackpot, two rows for the major, and all three rows to claim the mega jackpot. According to NetEnt, your chances of winning increase with your bet size.
Special Features in Divine Fortune
Divine Fortune has several special features, like symbol animations, visual effects, autoplay and more. We'll go over what each of these means in more detail below.
SPECIAL FEATURES
Autoplay option
👍
Change the speed
👍
Mute the sound
👍
Adjustable bet size
👍
Animated symbols
👍
There's a convenient autoplay option for those who just want to sit back and let the reels spin. Through the advanced settings, you can program several conditions to stop it. A quick spin option speeds up the gameplay.
If you're not fond of the music, then you can turn it off. There are several ways to adjust the bet. You can increase the betting level and the coin size. Your total bet will still be clearly visible on the bottom. One other feature that brings the game to life is the symbol animations when you win.
Divine Fortune Theme, Lore and Graphics
Divine Fortune draws its inspiration from ancient Greek mythology. Characters like Medusa, the Pegasus and Minotaur should all be recognizable to people familiar with the lore. There's no particular story here though; the imagery is just based on the ancient Greek aesthetic.
Graphics which still hold up well
Divine Fortune is still sharp, though a somewhat basic-looking game. Most of the screen is taken up by the reels themselves. Beside the reels, you'll see two large statues and the setting appears to be a hall.
Divine Fortune features excellent sound
Both the music and sound effects add to the enjoyment and immersion of Divine Fortune. The background music is ominous sounding and builds up anticipation.
There are sound effects for the reels spinning, and each of the animal noises is spot-on accurate.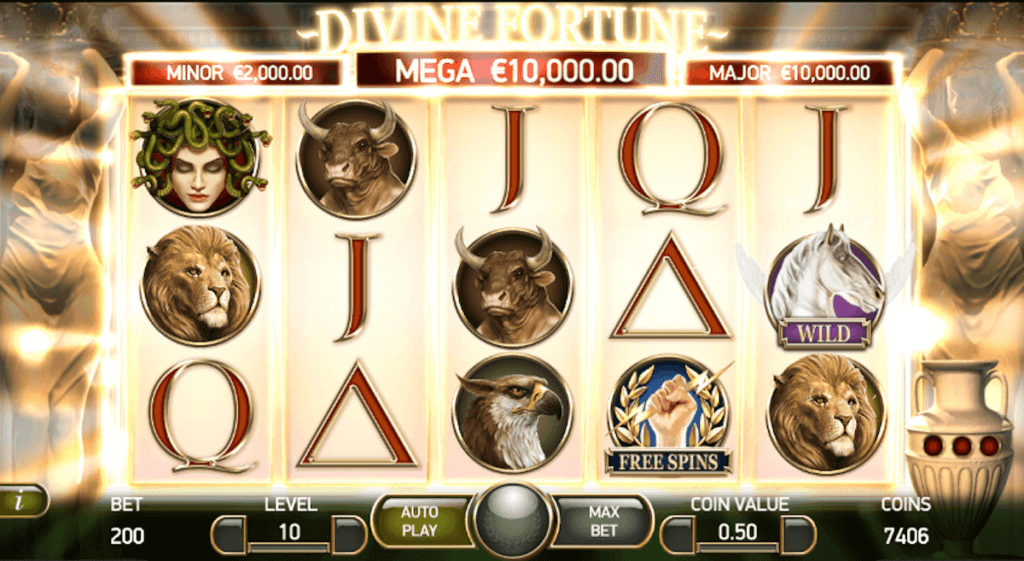 Divine Fortune Developer
Divine Fortune comes from NetEnt, probably one of the most renowned slot developers. They have a long history of great games like Starburst and Gonzo's Quest. The iconic developer was founded in 1996.
Conclusion – How Does Divine Fortune Compare to Other Slots?
There's no question the jackpot has played a big role in Divine Fortune's continued popularity. On top of that, the RTP is 96.56% which is good for any slot and especially a jackpot game.
Medium volatility ensures you can win fairly often. When combined with a low minimum bet, it's an attractive option for casual players.
NetEnt did a fantastic job of bringing everything to life as the graphics, music and sound effects are all great. There are several extra bonus features, like wild symbols triggering respins.