Absolootly Mad: Mega Moolah Review
How We Tested Mega Moolah Absolootly Mad
Whenever we get an online slot to test, we're sure to play it thoroughly to experience everything it has to offer. How else can we find the truth?
We play long enough to trigger the bonus features and see all the mechanics for ourselves.
The main areas we cover with our Mega Moolah Absolootly Mad review are:
The Numbers: Here, we look at values like RTP, volatility, payouts, betting ranges, and the big jackpot!
Game Mechanics: The game's main features are described in detail, including how to trigger them and how they work.
Visuals and Sound: The graphics and sound are thoroughly analyzed and also compared to other similar games.
At the end of our review, we go over the main points and give our final score.
Mega Moolah Absolootly Mad Symbols & Payouts
If you're wondering about the RTP, volatility, or how often you can expect to win, you came to the right section. Here is where we'll cover all the main values of Mega Moolah Absolootly Mad.
The Symbols
Mega Moolah Absolootly Mad has 10 symbols, with six high-paying ones and four low paying.
The notable symbols are the mad hatter, a pocket watch, a stack of teacups, a butterfly on a cupcake, a white rabbit on a cake, and a cat cake.
Below you can find a paytable summarising how much you can win from each symbol.
Paytable
| Symbols | 3 | 4 | 5 |
| --- | --- | --- | --- |
| Mad Hatter | 0.75 | 2.50 | 10 |
| Cat Cake | 0.5 | 2 | 5 |
| Rabit on a Cake | 0.5 | 1.6 | 4 |
| Butterfly on a Cupcake | 0.4 | 1.25 | 3.5 |
| Teacups | 0.4 | 1 | 3 |
| Pocket Watch | 0.25 | 0.6 | 2.5 |
| Red Spade | 0.25 | 0.6 | 2.4 |
| Green Heart | 0.15 | 0.5 | 2 |
| Blue Club | 0.15 | 0.4 | 1.6 |
| Orange Diamond | 0.15 | 0.4 | 0.8 |
Min/Max Bet, Autoplay Option?
There's a sizable betting range, where you can wager anywhere from $0.2 to $50. The autoplay option lets you choose from 10, 25, 50, or 100 spins.
RTP
If this was a regular slot game, an RTP of 92.02% would be considered relatively low. However, RTP levels tend to be below the slot average of 96% for jackpot games.
This is because part of the RTP goes to funding the big prize.
Volatility
The volatility is at a medium level, which should make for a consistent game that's not too wild. It looks like Microgaming wanted to play it safe with this one.
Hit Frequency
The hit frequency is estimated to be 32.53%. It means 32.53% of your spins (or about one out of three) should be a win.
Jackpot and/or Maximum Win
Not counting the big jackpot, the base game offers a max win of 2,343x.
Mega Moolah Absolootly Mad Offers a Favourable Experience
Overall there's nothing major to criticize in this section. Some players may be disappointed when they see the low RTP.
However, it's important to remember that this isn't a regular slot game, so the average of 96% doesn't apply.
Jackpot games such as this have lower RTP because a part of it is used to fund the grand prize.
Game Features
Here is where we talk about the main mechanics of Mega Moolah Absolootly Mad. Learn about the free spins, wilds and progressive wheel.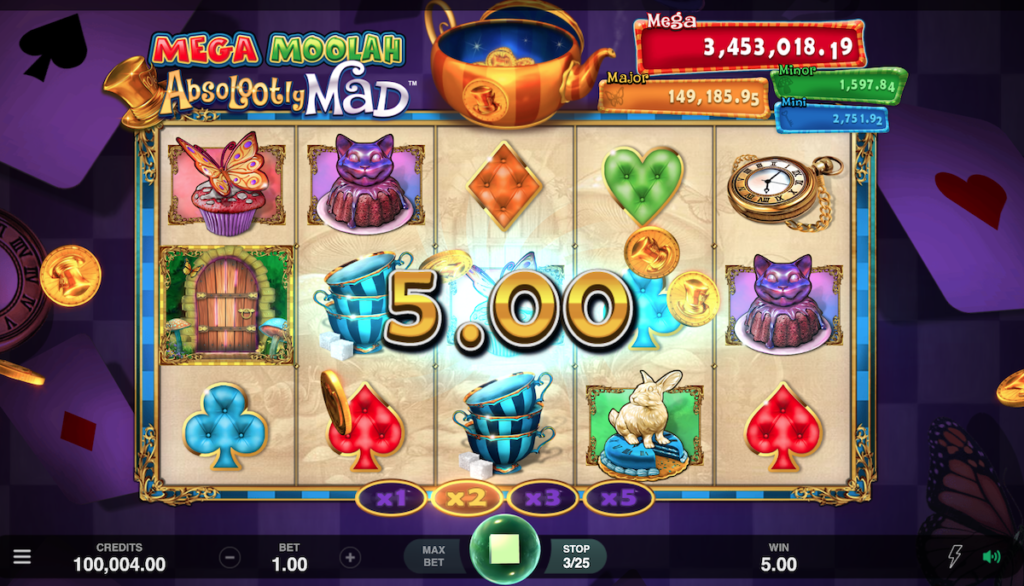 Wilds, Re-Spins and Other Features
Wild symbols, scatter symbols and free spins are pretty universal features of slot games. We'll explain how they work here, along with other unique features.
Wilds
A hat on a gold coin represents the wild symbol. A wild symbol can substitute for any paying symbol to create a winning payline.
Re-Spins
The key symbol to watch out for is the magic door. By getting three of these on the reels, you'll unlock eight free spins.
Multiplier
The rolling reels function (explained below) also acts as a multiplier. Which each "roll" you receive, your multiplier count will go up. It maxes out at 5x, though.
Rolling Reels
Rolling reels, which are sometimes also called cascading reels, are pretty standard with Megaways titles. Regardless of where they appear, it's always a welcome addition.
Whenever you win, the winning symbols will disappear and be replaced by new symbols. This process continues as long as you keep winning. With the multipliers mentioned above, you can get some big payouts.
Progressive Wheel
The progressive wheel is another unique feature found in Mega Moolah Absolootly Mad. Every time a wild symbol appears, it's collected into the gold pot above.
When the rolling reels process, ends there's a potential for the wheel function to activate and land one of the progressive jackpots.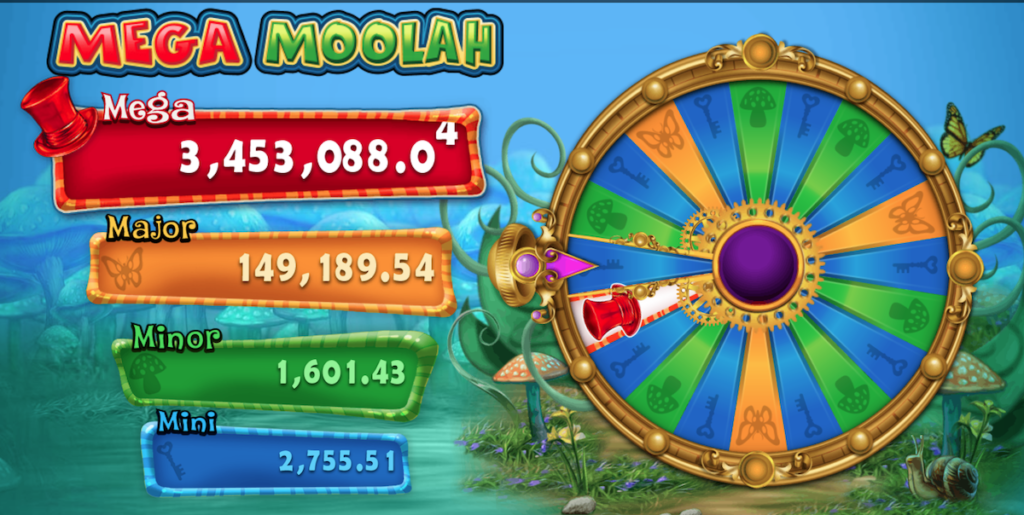 It's like a separate mini-game where you get to spin a wheel divided into 20 segments. There are four sizes of jackpots, mini, minor, major, and mega.
Of course, mini covers the most sections, with the mega moola covering only one. This is the chance in the game to win the big prize.
Bonus Buy?
There's no option to buy a bonus round.
Mega Moolah Absolootly Mad has a Good Suite of Bonuses, even Without the Big Jackpot
Even if you don't get the mega jackpot, the base game still offers many bonus features to help you get decent payouts.
The most welcome addition is the rolling reels feature, which gives the potential for consecutive wins from a single spin.
Add the multiplier function on top of that, and things can get very interesting.
Mega Moolah Absolootly Mad Graphics & Sound
Since Mega Moolah Absolootly Mad is based on Alice in Wonderland, you have some idea of what to expect for the visuals.
The background of the reels is a chessboard with cards and stopwatches. More than that, the reels themselves have a background of their own which is a small house in the woods with mushrooms all around.
The symbols (which we described earlier) all look pretty detailed too.
There's a soundtrack playing in the background, which matches the location well. It's a bit higher tempo and gives the feeling of excitement to the slot.
There are also the usual sound effects of symbols falling down and the reels spinning.
| | |
| --- | --- |
| Graphics | 2D |
| Optimized for Mobile | 👍 |
| Music | Background music, sound effects |
| Special features | Vanishing symbols |
Mega Moolah Absolootly Mad Offers Good Visuals and Sound
While there's nothing mind-blowing about the graphics here, it certainly does the job. It looks on par with many other slot games, which is good enough for most players.
You definitely get the feeling of being in a magical setting from the background and music.
Solutions if you Have Some Issues With a Game
Before you play any game for money, it's good to test the free/demo version. This ensures the game is supported by your device and makes it less likely you'll run into problems.
If there's lagging during gameplay, your internet connection may be the problem. Sometimes ad blockers can also interfere with a game loading properly.
If you still have continuing problems with a game, we recommend contacting customer support at the casino.
Verdict
Although you won't find anything new in Mega Moolah Absolootly Mad, it offers a reasonably satisfying slot experience!
There's a great number of bonus features, and the atmosphere and visuals are well done overall. While most of us won't win the mega moolah jackpot, the base game still offers enough on its own.
Other Slots to Play if you like Mega Moolah Absolootly Mad Slot
Check out some of our picks below if you also enjoyed this online slot:
White Rabbit Megaways
Mega Moolah