What is the Lottery?
An online lottery is any lottery game available on the internet. Today, players can participate in lotteries offered anywhere in the world. Specific terms and conditions, including residency requirements, and taxation on winnings may apply.
This guide focuses on Canada's lotteries, what the choices are, what each offer and how to play them online.
How Does the Lottery Work in Canada
Canada has a longstanding love affair with lotteries for one simple reason: everyone wins!
How is that possible?
In Canada, all lotteries are operated by the provincial governments, and all profits are distributed back to communities. Lottery revenues fund amateur and youth sports, hospitals, the arts, and free community events held from coast to coast.
Whether players win a jackpot, a free ticket or nothing at all for their ticket purchase, all Canadians benefit.
Online lottery vs. Store-bought
In Canada, playing the lotteries online is almost exactly the same as playing at a retailer. Players can purchase tickets and still choose their favourite games, numbers and combinations.
The biggest advantage of playing online is the flexibility to play anytime, anywhere without the need to visit a store to buy tickets. Never miss a big draw again!
Is the Lottery Safe to Play Online
In this case, there is more than one definition of safe. From a transactional perspective, buying lottery tickets online in Canada from authorized organizations is as safe as paying taxes online or internet banking.
In terms of personal safety, minors are prohibited, and player minimum age requirements apply.
In those rare situations where individuals may feel overwhelmed or show compulsive tendencies, a number of Responsible Gambling resources are available to Canadians from coast to coast at a local level.
Is it Legal to Play the Lottery Online in Canada?
As long as you are not a minor, it is legal to play Canadian-regulated Lottery online in Canada. Lotteries offered by other countries may have participation criteria that restrict winnings to citizens. Always check terms and conditions before playing.
Some online casinos offer house lotteries, usually with much smaller prizes but possibly better chances of winning.
In these cases, review the relevant gambling licenses to make sure Canadian players are accepted and the online casinos are authorized to operate in Canada.
Are Online Lotteries in Canada Fair
In Canada, one process is used to regulate lottery gameplay both on and offline: Random Number Generation (RNG). RNG software is a sophisticated technology that removes the human element from potentially influencing number selections.
As an added layer of security, independent auditors screen and test the RNG technology, as well as the game structures, and supply transparency reports to the government, and the public upon request.
BMM Testlabs is a world-leading independent compliance organization and a Canadian success story in its own right.
Top Online Lottery Games in Canada
Canada loves the Lottery! Like hockey and maple syrup, it has become a national touchstone that helps bind a geographically large and culturally diverse nation together.
Why? Because win, lose or draw – all Canadians benefit. Among the hundreds of lottery games to choose from, there are only three truly national lottery games in Canada.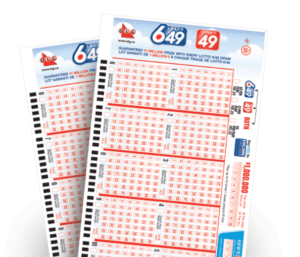 Lotto 649
Launched in 1982, Lotto 649 was the first nationwide lottery game that allowed Canadians to choose their own numbers.
It proved so popular that other national games that sold tickets with pre-printed numbers eventually had to be phased out.
With draws held every Wednesday and Saturday, Lotto 649 remains the most popular lottery in the country and holds the record for the largest and second-largest jackpots ever paid out in Canada.
How to play lotto 649
It's all in the name! Choose six numbers from between one and forty-nine.
If you guess all six correct – the jackpot is yours!
Jackpots start at five million and prizes tier downward as the number of correct numbers you chose lessens, but guess as little as two correctly and you're in for a free ticket and the chance at another huge payday!
Lotto Max
Similar to Lotto 649, Lotto Max players choose seven numbers from a field of fifty, but jackpots start at ten million and are capped at seventy million. Additionally, players can still win "Max Millions" even as the jackpot goes unclaimed.
This prize distribution system pools as much as one hundred million to be won, making it the "biggest" lottery in Canada.
The general perception is that Lotto Max offers more chances to win large money prizes, a major factor that drives its popularity. Draws are held every Tuesday and Friday.
How to play Lotto Max
Choose seven numbers between one and fifty. If all seven match those drawn, you win the jackpot!
Lotto Max also awards large secondary prizes for matching five or six of the seven numbers, as well as more chances to win random million-dollar prizes with the same ticket.
Daily Grand
Not to be confused with a daily lottery draw that typically offers smaller prizes, the Daily Grand is drawn twice weekly and the jackpot is $1,000 dollars (a Grand) a day for life!
Launched in 2016, the Daily Grand (known as Grand vie in Quebec and New Brunswick) is Canada's third and newest national lottery.
How to play Daily Grand
Match the five winning numbers chosen between one and forty-nine. Players also choose a "Grand Number" between one and seven that can be used to match the winning draw, bettering their chances for a jackpot.
A lump-sum payout of seven million is also an option for the lucky winners!
Lottery Regulators in Canada
No matter how one looks at it, the three national lotteries in Canada are operated and regulated by the provinces.
Lotto 649, Lotto Max and the Daily Grand are managed by the Interprovincial Lottery Corporation (ILC), a consortium owned by the ten provincial governments of Canada.
Five Lottery Corporations represent their respective regions, sell national lottery games, as well as a host of provincial lottery games and other online gambling products available to their residents.
Provincial lotteries include regional variations of Lotto 649, Instapik, Instant Win tickets, and Scratch & Win.
Provincial jackpots can be quite large, but not in the range of the three national games. Foreign nationals interested in playing Canada's lotteries online should review the terms and conditions for participation before making a purchase.
ALC (The Atlantic Lottery Corporation)
Starting in the east and working westward, the ALC administers national and regional lotteries to residents of the provinces of Newfoundland, Nova Scotia, Prince Edward Island and New Brunswick; collectively known as the Maritimes and/or Atlantic Canada.
Loto-Québec
Loto-Québec governs national and provincial lotteries in the geographically largest and majority French-speaking province of Quebec.
Francophone players will find an impressive selection of lottery, sport and casino games.
OLG (Ontario Lottery and Gaming Corporation)
Overseeing Lottery and gaming regulation in Canada's most populous province, since 1975 the OLG has contributed approximately $55 Billion back to the people and communities of Ontario.
The OLG offers a diverse choice of lottery games, casino and slots games online, as well as excellent tutorials and player-support resources.
WCLC (Western Canada Lottery Corporation)
Similar in design and intent to the ALC, the WCLC administers national lottery games to a region of provinces.
These consist of Manitoba, Saskatchewan and Alberta. Nunavut, the Yukon and the Northwest Territories also fall under its jurisdiction.
BCLC (British Columbia Lottery Corporation)
The BCLC owns and manages all lottery equipment supplied to retailers in British Columbia and administers the provincial and national lotteries within the province.
Perhaps more progressive than the other regulators, the BCLC has launched a full-service online gaming site branded as PlayNow.
PlayNow
Marketed as an online gaming website, PlayNow offers national and provincial lottery tickets online, Slots, Table Games, Poker, Bingo, Sports Betting and Live Casino.
PlayNow competes in the online casino space with the distinct advantages of government ownership and the ability to offer Canada's national lottery games.
As a British Columbia operator, the minimum age requirement to participate is 19.
5 Tips to Improve your Chances at Winning the Lottery
While there are no golden secrets or guarantees, lottery players in Canada can improve their chances to win by adopting a few different strategies!
Learn to play the game. It sounds simple but Lotto 649, Lotto Max and the Daily Grand can be played using different combinations of numbers, add-on options and bonuses to increase the opportunity to win prizes. All of the Canadian Lottery Corporation websites offer great tutorials, practical advice and hints on how to play the national lottery games.
Play different numbers. Most Canadians can quote their personal lottery number faster than their shoe size, and stubbornly play it faithfully draw after draw. Changing it up from time to time could improve the chances of winning.
Create or join a players group. Friends and co-workers who contribute to the cost of a bulk group of tickets stand a better chance of sharing a win than one individual with a few tickets.
Play different lottery games. Each national lottery game offers a specific set of winning odds based on jackpot size and ticket sales. A little research will quickly tell you which is more favourable for prizes in a given week.
Understand the odds. The difference in the odds between winning, and winning the grand prize, is huge. Yet those small wins that let you play again and again could eventually add up to something big!
The bottom line is that lottery games in Canada are completely random. There is no formula to guarantee or even influence a win.
The ticket sold directly before or after yours has the exact same chance of winning or losing as yours does. That's why a lottery is called a "Game of Chance." That also means you have the same chance of winning the grand prize as any other player!
Top Lottery Jackpots 2021
2021 was another fantastic year for Canadian lottery players! Here are a few of the top jackpots won:
Lotto Max – $70 Million (Ontario)
Lotto Max – $55 Million (Saskatchewan)
Lotto 649 – $21 Million (Ontario)
Frequently Asked Questions
NO. Lottery winnings, whether won from tickets purchased online or at retail are tax-free to Canadian citizens.
Exactly the same as those of any other players. Lotteries are games of chance. But you can't win if you don't play.
YES. The only difference between online lottery tickets and store-bought is personal convenience.
Contact the Lottery Corporation responsible for your region. Their website will also have specific directions on how to claim your prize.
YES. Minors are prohibited from playing. The minimum age varies by region. Check with the relevant Lottery Corporation for your area, or local retailers.