Popular, fast-growing games provider Playson has just launched an exciting new Game Area to enhance its analytical tool xEye Viewboard.
This promotions tool will help partners not only access the entire library of slots but everything related to the mathematical, markets and legal aspects.
Playson's new Game Area is set to be a game-changer. If you're interested to learn more, we invite you to keep on reading.
What is the new Game Area?
Playson's Game Area, within their cutting-edge analytical tool xEye Viewboard, is set to provide a comprehensive database of all the provider's online slots, together with a list of documents showcasing mathematical, marketing and legal insight.
Partners can change their area to cater to their specific needs. As such, filtering can be carried out per language to access specific market compliance documents, making the online casino's decision-making more seamless.
CTO at Playson, Oleksii Mylotskyi, said: "To go live with our bespoke Game Area is a landmark moment for us on a global scale. Partners will hugely benefit from what the Game Area can do for them from a business standpoint and the fact everything is in one place will ensure a smoother journey to find any details about every game within our portfolio. Being able to showcase this unique encyclopedia to our partners reinforces the way in which the tool can sharpen the decision-making process for operators."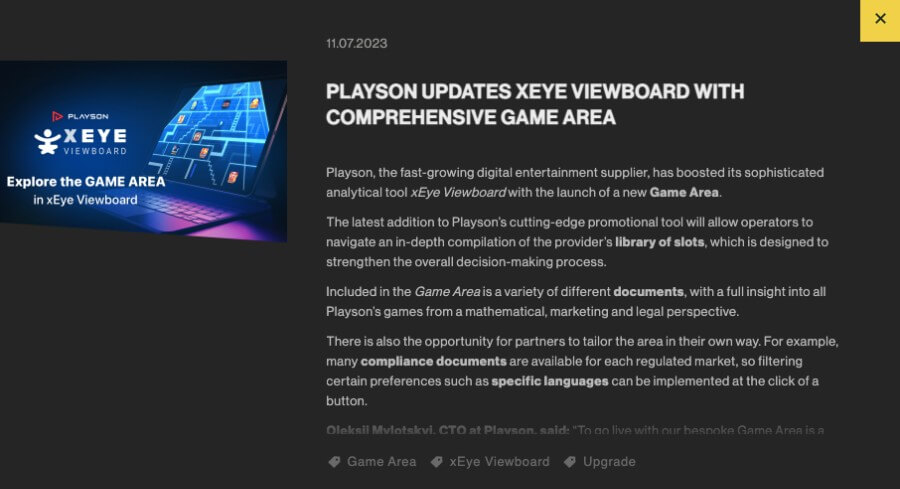 Playson's Product Owner, Oleksii Khodenko has commented: "Our xEye Viewboard is one of the best innovations we have created at Playson over the past 12 months and the addition of the Game Area will allow partners to freely gain insight into what we produce. Giving partners the freedom to know all about our portfolio will boost our status within the iGaming industry and creates opportunities to broaden partnerships worldwide."
Who is Playson?
Launched in 2012 and located in Malta, Playson is a fast-growing games provider, known best for its entertaining online slots.
Plenty of Canadian online casinos offer games by Playson, including the ones we have reviewed.
Playson is also known for the launch of the Races Tournaments and the Non-Stop Drops, both of which are capable of handing out millions in prizes.
Read More News From Canada