Starburst Review
How We Tested Starburst
All of our reviews are based on our personal experiences with the online slot. 
We played Starburst thoroughly to learn how it works and then report these details right here, so you know exactly what to expect before depositing and playing yourself.
We experiment with different bets, both high and low.
By playing the game repeatedly, we can see approximately how often a winning payline occurs.
We play the game long enough to experience each bonus feature the slot has to offer.
Starburst Symbols & Payouts
Learn more about the symbols and payouts of Starburst in this section. We'll also explain the RTP, volatility, and other important factors.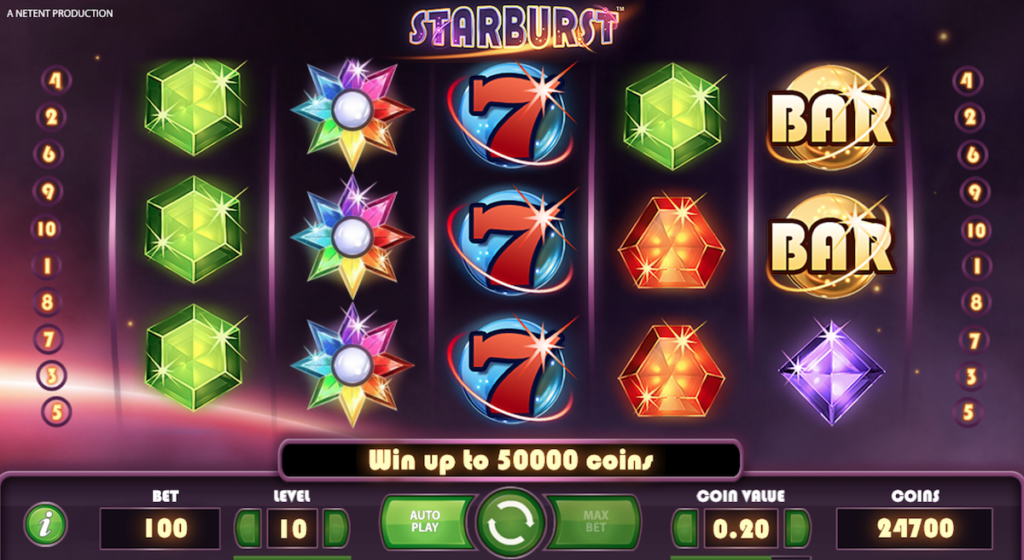 The Symbols
Starburst features a lot of classic slot symbols. The two high-paying icons are the bar and seven. Yellow, green, red, blue and purple gems make up the rest.
Paytable
The payout values given are for the highest bet.
| Symbol | 3 | 4 | 5 |
| --- | --- | --- | --- |
| Bar | 50 | 200 | 250 |
| Seven | 25 | 60 | 120 |
| Yellow Gem | 10 | 25 | 60 |
| Green Gem | 8 | 20 | 50 |
| Red Gem | 7 | 15 | 40 |
| Blue Gem | 5 | 10 | 25 |
| Purple Gem | 5 | 10 | 25 |
Min/Max Bet, Autoplay Option?
The betting range for Starburst is a smaller one. The highest bet you can place is $10. You can also play with a low minimum bet of $0.1.
There's an autoplay function where you can pick the number of spins you want.
RTP
The RTP is 96.09%, which is a little higher than the average we see for slots. No doubt this has contributed to Starburst's longevity.
Volatility
The volatility is low, which makes it favourable for people who want to take less risk. Low volatility games pay out less per spin, but you win more frequently.
Hit Frequency
The hit frequency of Starburst is 22.6%. This means roughly at least one out of five spins should be a winner.
Jackpot and/or Maximum Win
The maximum win is 500x per spin, which isn't too high. Starburst, though, is known more for consistency than big wins.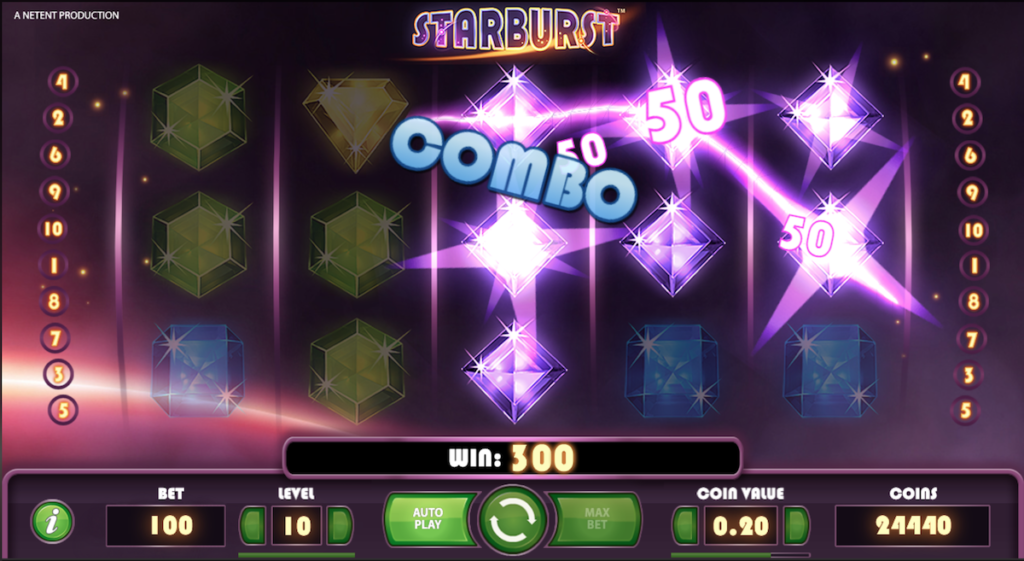 Starburst provides favourable values across the board
Starburst definitely looks like a game meant to be played for fun by more casual players. The lower max bet and payout are not likely to attract many high rollers.
What's appealing about Starburst is the above-average RTP and lower volatility which makes for smaller but more consistent wins.
Game Features
Being a fairly simple slot experience, Starburst isn't big on any major features. Still, there are a few interesting things to look at which make Starburst even more exciting.
Wilds, Re-Spins and Other Features
You'll find wild symbols and re-spins in Starburst. These two features are considered quite common in the world of slots. The other main feature is "pay both ways," which we'll cover more a little later in this section.
Wilds
The wild symbol is the multicoloured star gem, which is the main icon of this game. Most slot players are probably familiar with the fact that wilds substitute for other symbols to create a win.
In Starburst, they also expand to cover an entire reel.
Re-spins
Re-spins in most games are triggered by getting a certain number of scatter symbols. In Starburst, though, the wild symbol will award one re-spin when it appears. The cap for how many re-spins you can get in a row is three.
Multiplier
Starburst doesn't have a multiplier function.
Pay Both Ways
Generally, games only pay in one direction, but in Starburst, it can pay from the left and right. This, of course, results in more wins which are always great.
Bonus Buy?
There's no option for buying a bonus round.
Starburst offers a few but exciting features
Player's have enjoyed Starburst's simplicity while still delivering several great features. Instead of plain wild symbols, you get expanding wilds that cover the whole reel.
A re-spin is always triggered with the appearance of a wild, and to top it off, pay lines can work in both directions.
Starburst Graphics & Sound
Despite being quite old at this point, Starburst still looks surprisingly well.
There's not a whole lot going on in the background, but the glimmer of the gems and overall presentation still catch your eye.
The sound and music are both excellent too. It's hard to describe the music exactly, but if you're familiar with arcade games and the SNES titles from the 90s, it'll be immediately familiar.
Starburst also works great on mobile, so you don't have to be stuck at your desk to play it.
| | |
| --- | --- |
| Graphics | 2D |
| Optimized for Mobile | 👍 |
| Music | Background music, sound effects |
| Special features | – |
Starburst's visuals still hold up well
One could argue the simple look is part of the charm, and it's not a bad-looking game either.
The idea is that you're out in space, and NetEnt conveys this well.
The graphics, visuals, and music all provide a fun and enjoyable presentation.
Solutions if you Have Some Issues with a Game
If you run into any issues with Starburst, you can try a few of these solutions. Turn off any adblockers for the online casino, as sometimes they interfere with proper loading or gameplay.
You can also try refreshing your page and ensure your internet connection is running properly.
If these solutions don't help, it may be necessary to contact customer support at the casino. Before wagering any real money on a game, always play it for free first to verify it works well on your device.
Verdict
Starburst still continues to deliver the same excellent gameplay it's renowned for.
You won't find any characters, elaborate stories, or lush backgrounds here. Instead, it's all about a pure old-school slot experience.
The above-average RTP, frequent payouts, and simple rules have left it as a classic slot among players and critics. The bonuses, music, and gem symbols come together very nicely.
Other Slots to Play if you Like Starburst Slot
If you enjoy Starburst, there are other similar games, but there's only one Starburst. We absolutely have to recommend Starburst XXXtreme, which is a modern take on this classic by NetEnt.
You've got a very familiar look but with some additional features and upgraded visuals. The RTP has also gotten a bump, but the volatility is now high.