Reactoonz Review
Quirky alien-themed Reactoonz slot game is one of our most popular slots and is powered by gaming provider guru Play'n GO. The latter is popular amongst some of the best online casinos in Canada.
Reactoonz has been entertaining slot lovers ever since its release in 2017. With a large 7×7 grid, pre-designed alien characters and fascinating chain reaction features, this fun-filled slot will take you out of this world.
Read on to learn more about the vital stats and why you should try Reactoonz.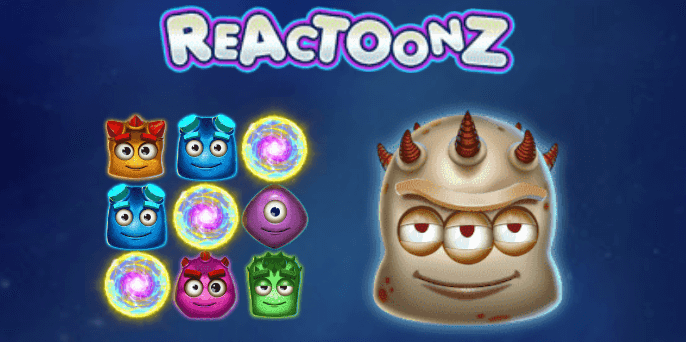 Reactoonz – An Alien Race To Win
The key to understanding slots is understanding the balance between RTP, features, maximum win amount, paylines, and so on. We've put together all of the pertinent information so you can make an informed decision on whether to play or not.
How We Assessed Reactoonz
Whenever we check out a slot, we like to go through every aspect of the game and take a step-by-step approach to get a complete picture.
Here's how we do it:
We spin the reels of the game ourselves. Like this, we check out the game's mechanics and see what are the game's symbols, how they land on the reel and what paylines they trigger.
Next, we look at the game's settings and the controls, including autoplay, bet amount and spin limit settings.
We then go into more detail at how paylines happen, which direction and which special features induce it to its maximum potential.
We then gather technical details such as RTP and volatility to provide all the necessary information.
What Kind Of Slot Is Reactoonz?
Reactoonz is a popular follow-on from the Energoonz slot from Play'n GO with a 96.51% RTP and high volatility. The slot plays a lot like a symbol matching game, with the added excitement of the chance to win.
The symbols cascade with winning combinations of adjacent symbols being zapped away and new on arees falling into their place to line up more potential payouts.
General Details
Slot type
Video Slot
Number of rows
7
Play'n GO
Reactoonz
Reels
7
We had fun testing this 7×7 grid video slot. The alien characters are highly defined, the graphics are themed well, and the cascading symbols create extra excitement.
Special Features On Reactoonz Slot
Reactoonz doesn't feature a Special Spins Round but rather has two ways that winning combinations can compound and lead to special features, sucas h the Hold & Win feature that always guarantees exciting gameplay.
| FEATURES | NO. | LIST |
| --- | --- | --- |
| BASE GAME FEATURES | 5 | Cascading Symbols Hold & Win SymbolsFlux Capacitor WildsGargantoo features for Quantum Leap special features ImplosionAlterationDemolition Incision |
| SPECIAL GAMES FEATURES | 0 | Not Applicable |
Entertaining Base Game Features
The base game features are very engaging as we found ourselves spinning and re-spinning to build up the Quantum Leap meter and get those ever-important special features.
The meter to feed the Gargantoon builds slowly and resets after each winning streak, so we sometimes lost patience.
You must group at least five symbols to make the smallest winning combo and 15 symbols for a maximum payout.
Cascading Symbols
Each winning combination of symbols gets teleported away and is replaced by new symbols cascading from the top for potentially more wins.
Quantum Leap special features
Once the Quantum Leap Charge meters are full; they will initiate the special features:
Implosion
When three to six symbols land into reels, these turn into wilds that trigger wins.
Alteration
When a random one-eyed symbol is selected, it converts all matching symbols into a different symbol.
Demolition
Demolishes all one-eyed symbols and matching symbols too.
Incision
Bisects act as a wild symbol and cause two lines to form on the grid with the same matching symbols.
Gargantuan features
When the charge meters are ready, the Gargantoon gets enough power to invade. The 3×3 Gargatoon leaps onto the grid serving as a wild and bringing up to five features with him.
The Symbols
The low-paying symbols are the one-eyed aliens and feature a pay between 0.10 and 10x your stake; the two-eyed aliens are worth more and pay between 0.50 and 750x your bet.
Wild symbols can appear on the slot grid whenever there is a fluctuating symbol that has been part of a win, or else when the Gargantoon drops them on the board.

Paytable
Here's what payout you can expecif t you get symbol clusters of five or more:
Symbols
Payout per cluster
One-Eyed Aliens
5 x
6x
7x
8x
9x
10+ x
12+ x
15+ x
Yellow
0.10
0.15
0.20
0.30
0.60
0.80
1.00
3.00
Green
0.10
0.15
0.20
0.30
0.60
0.80
1.00
3.00
Red
0.24
0.32
0.64
0.96
1.28
1.60
4.80
16.00
Purple
0.24
0.32
0.64
0.96
1.28
1.60
4.80
16.00
Two-Eyed Aliens
Blue
0.80
1.12
1.60
2.40
3.20
4.80
8.00
120.00
Orange
0.96
1.28
1.60
3.20
4.80
8.00
16.00
240.00
Green
0.80
1.00
2.00
3.00
4.00
10.00
25.00
300.00
Purple
1.00
2.00
3.00
5.00
8.00
20.00
50.00
750.00
Special events that can occur during the base game
As mentioned above, when the Quantum Leap meters are full, up to four quantum features can engage
Automatic Hold & Win feature
The Hold and Win feature is a popular feature where with each winning combination, the remaining non-winning symbols are frozen in place.
The rest of the symbols continue to spin and trigger even further wins. This can go on foseveralof indefinite times – with each spin triggering a different amount of wins.
How Do The Game Settings Work On Reactoonz?
By clicking the menu in the bottom right-hand corner, you can set your bet between C$0.20 and C$100, set the auto spin up to 100 times with win and loss limits, switch the sound on and off, engage in fast play and also put the game in left-hand mode.
You can also opt for auto-adjust on your bets which will adjust your bet amount according to your bankroll.
SPECIAL FEATURES
Autoplay option
👍
Win/loss limits on autoplay
👍
Change the speed
👍
Mute the sound
👍
Adjustable bet size
👍
Left-hand mode
👍
Auto adjust bet size
👍
We found the controls on the game very easy to master, and they made for convenient gameplay. With its win and loss limits, the autoplay allowed us to set the game going and sit back and enjoy thexcitingng animations.
What's Reactoonz's Theme All About?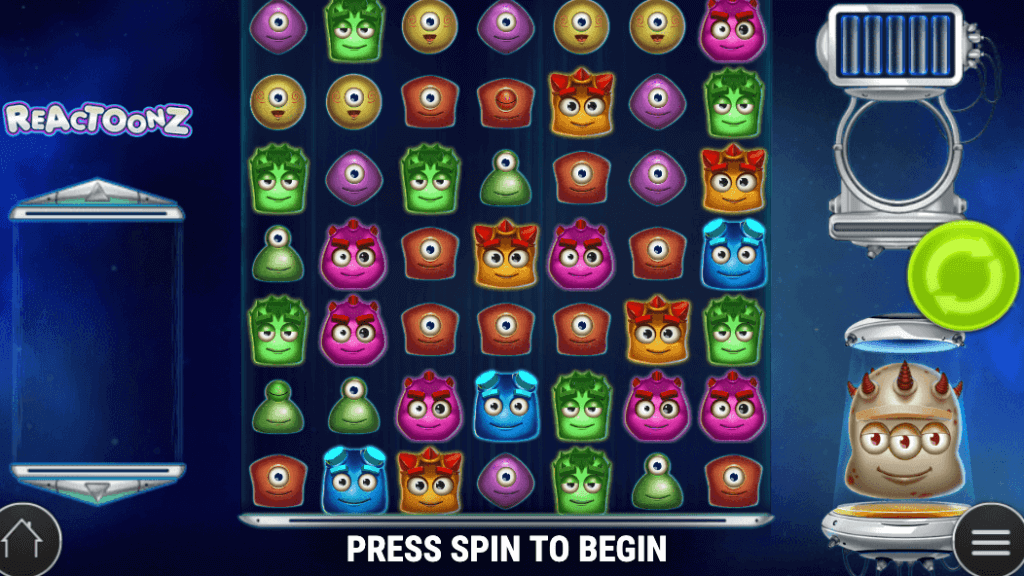 Reactoonz rwhere alien symbols appear from the heavens to bring intergalactic wins. The game doesn't take itself too seriously, and the cartoon graphics and the weird soundtrack help deliver a jaunty, engaging game experience.
Reactoonz follows on from the successful Play'n GO title Energoonz, incorporating a bigger grid and aliens instead of monsters.
Clean, Dynamic Graphics
The graphics in the game are animated seamlessly, and the characters are well-drawn. When winning combinations appear, the additional animations that teleport the symbols away are unique and quirky and add to the game's overall feel.
Well-matched Soundtrack
We enjoyed the extra element that this soundtrack brings to the theme. The music is reminiscent of an old alien cartoon, and the quirky popping sound of the thalien'sns landing works well to keep the light-hearted and playful feel of the slot.
Reactoonz Developer
Reactoonz was released in 2017 by Play'n GO, one of the foremost game developers in the industry. The company was started in Sweden in 2005 and has been delivering innovative games ever since.
All of their games are tested by BMM Testlabs to ensure a fair and enjoyable game experience.
Why Should You Play Reactoonz?
In playing and testing Reactoonz, we found that the game serves up a good balance of larger and smaller wins at a decent frequency – and no wonder we can find this 2021 game in all the main top casinos in Canada. The RTP is also good, and we didn't hit too many dry spells.
This is a fun and enjoyable slot for Canadians to play. The Hold and Win feature makes the game more thrilling – as well as the base game features and themes that well-accompany the rhythm of this slot game.