Gladiator Review
| | |
| --- | --- |
| Launched date | 2008-05-03 |
| RTP | 94.1 |
| Max profit | 5,000 |
| Volatility | Medium |
| Paylines | 25 |
| Max stake | 0.01 |
| Min stake | 1250 |
Play with the Heroes of the Past – Gladiator Slot Review
Are you intrigued by the stories of our ancient past? Would you like to experience a slot game that sets you right into the heart of a fighting arena?
Inspired by the storyline of Gladiators blockbuster movie, gaming giant Playtech has created this 3-row 5-reel slot game, featuring a Return to Player (RTP) of 94.1%. If you're not familiar with the term it's okay – Return to Player is used by all online casinos to act as a guide for players to know what will be their return of money on the amount they bet. So for example, if they bet C$100, and RTP is 94.1%, then if they win, their return will be that of C$94.10.
We have tried and tested Playtech's Gladiator over and over to uncover some of its best features along with its strengths and weaknesses. We have provided you with the guide below as an easy walkthrough for all Canadian players.
What is Gladiator?
Gladiator was developed in 2008 just and though Playtech didn't obtain the copyrights to feature Russell Crow in their game, this video slot game pretty much mimics well the movie.
The game features a 5×3 reel with 25 paylines with wildcard features and scatter wins that can give you as a Canadian player the opportunity to land a wide range of wins.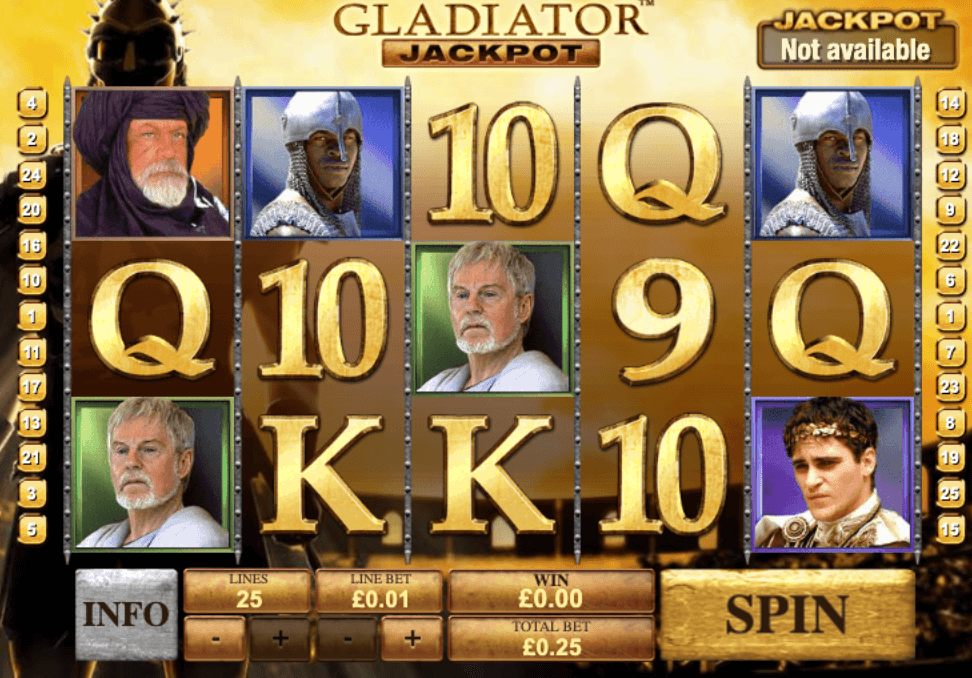 GENERAL DETAILS
Slot type
Gladiator
Number of rows
3
Provider
Playtech
Reels
5
Gladiator Slot game Base Features
Multiple game features
Ready. Set. Go. Once you press play, Gladiator lures you into its 5×3 slot arena of winning possibilities.
Featuring wild symbols that can land you the maximum wins of the game, to scatter symbols that offer lesser amounts but a wide range of winning possibilities.
We shall be discussing each Base Game feature – on what is their value, how they behave and how they can trigger different winnings.
The symbols
Free Spins
Paytable
Special events that happen during the game
The symbols
The Gladiator slot game features one wild symbol and several scatter symbols with different values. The highest paying symbol is the Gladiator Helmet wild symbol. The wild appears on reels 2,3 and 4 and once you land three of these the Gladiator Bonus feature is triggered, which can also lead to the Progressive Jackpot.
The game also features the Coliseum scatter symbol that can pay up to 100x your stake and also trigger the Coliseum Bonus round.
The slot game also has other important symbols featuring prominent movie characters Commodus, Proximo, Juba and Lucilla. Other symbols include character icons A, J, K, Q, 9 and 10.
Free Spins
Gladiator slot for online Canada casino also features Free Spins. Look out for the Emperor symbol that has the power to trigger 3 to 24 Free Spins.
Paytable
What is a paytable? Paytable is a list that showcases how different symbols and icons can offer different payouts.
The game features 25 different paylines – all reflecting different combinations of different icons and the value of each icon standing alone and combined with others. Those values are then used as a multiplying factor with the original amount wagered by the player.
The highest paying symbol for the Gladiator slot game is the Commodus symbol – if you land five of these, you get the maximum multiplier of 5000x your original stake. On the other hand, the symbol with the lowest value is the 9 or 10 symbol.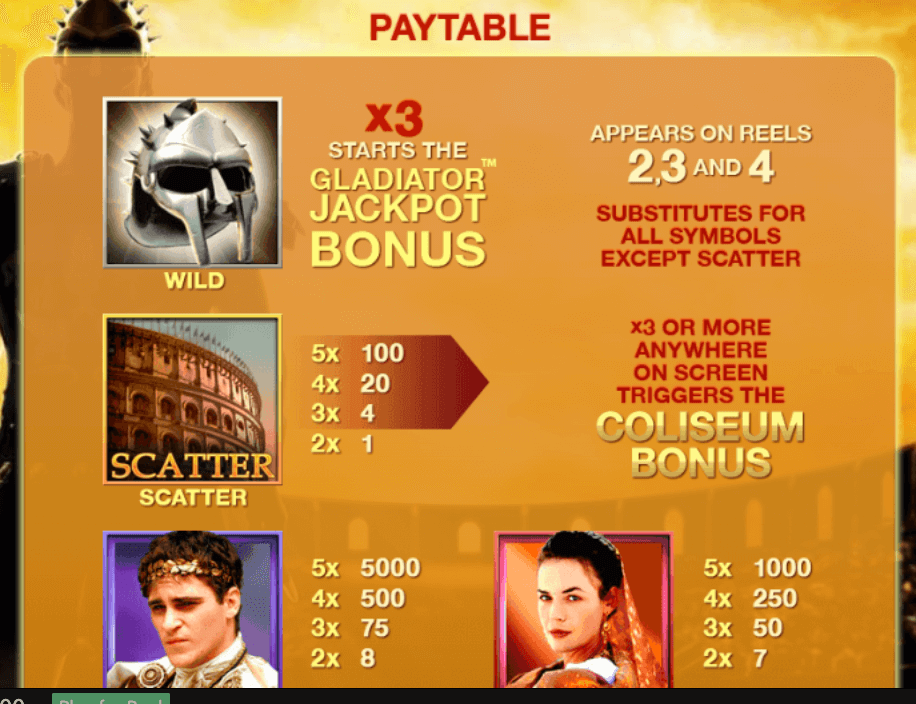 Special events that can occur during the base game
As we tagged along with the game we noticed some special features that deserve a highlight – mostly, the numerous icons and their multiple values that can trigger numerous wins.
Also, the two bonus features, as well as the Free Spins, are definitely a plus for Gladiator's winning value as a game, especially when compared to other online slots.
Bonus Buy Feature
This game features no Bonus Buy option.
Enticing Bonus game features
Gladiator slot by Playtech offers two types of bonuses for its players – each offering its own range of different payouts.
1. Coliseum Bonus
If you land 3 or more scatters on the reels, a different screen will appear, showing you that the Coliseum Bonus has been triggered.
During this round, you as a player will be presented with Rome's Coliseum images from where to choose from. Each wall has different winning possibilities – from anything to Free Spins to getting extra wild cards for your own benefit.
The maximum wins during this bonus round can get you up to 100x on the original amount you wagered.
2. Gladiator Progressive Jackpot
The peak of the Gladiator slot game is the Gladiator Bonus that can be triggered if you land 3 or more helmet wild symbols on reels 2, 3 and 4.
The Progressive Jackpot is triggered with the landing of 9 wild symbols and can get you the maximum of win of 5000x your stake.
What innovative Special Features can be seen in Gladiator?
We have listed down some key game features that are generally prioritized by players when choosing to play a particular slot game.
SPECIAL FEATURES
Autoplay option
👍
Change the speed
👎
Mute the sound
👍
Adjustable bet size
👍
Free Spins
👍
The storyline behind Gladiator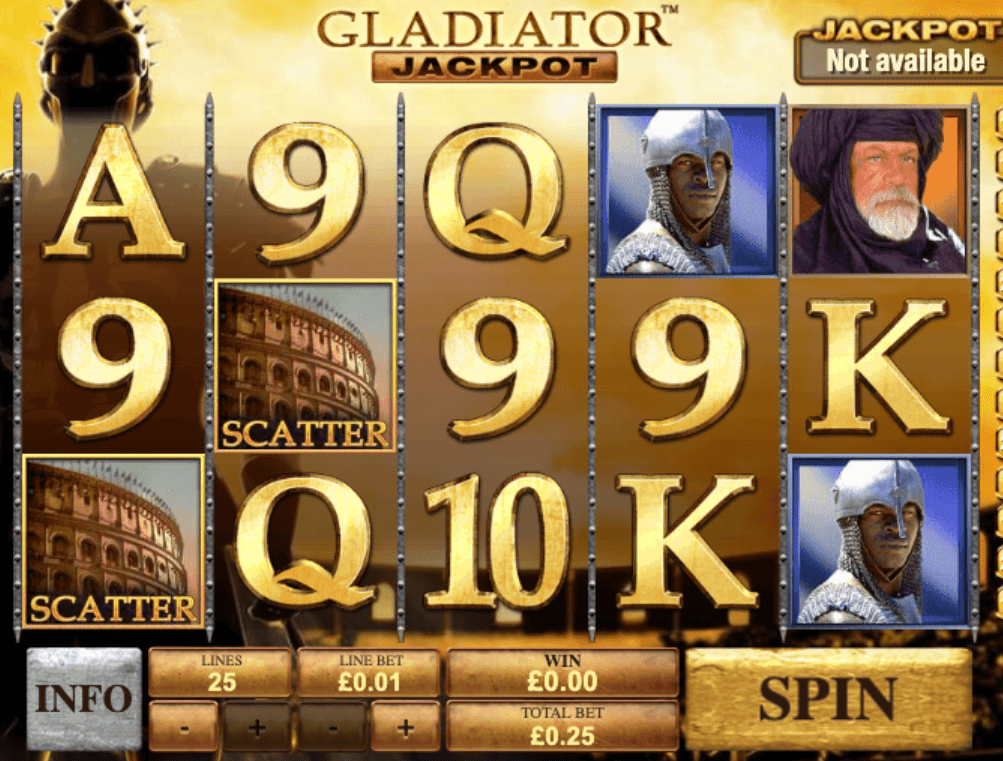 The story is set in Roman times at the very heart of the Roman golden age. The storyline and game's visuals are based on the blockbuster movie Gladiator.
Each symbol and backdrop tells a tale of this ancient empire that held its power within Europe for hundreds of years – from late BC to early AD.
The Graphics serve their purpose
The job done by Playtech speaks well enough for gamers to enjoy a good gaming experience. Overall we found the graphics to be practical and simple that offers great ease of use to Canadian players.
Immerive Sound
The game is adorned with some of the movie's best-loved soundtracks that accompany the game – making it more immersive as a game to play.
Who made Gladiator?
The creators of Gladiator are Playtech. The company has been around since 1999 and has set the example for many other future online gaming companies – featuring a portfolio of more than 600 games.
How does Gladiator slot game differ from others?
This is not the first time that the Gladiator theme has been used in online slot games – but Playtech's 2008 version differs from others because it offers one of the widest range of payouts and basic game features.
To date, the biggest ever Jackpot record for this Roman-themed slot game is a staggering 2 million dollars.