Gates of Olympus Review
Are you ready to face the wrath of Zeus at the gates of the mighty city of Olympus in this Canadian online slot!?
If you answer yes, step up to Pragmatic Play's Gates of Olympus and pit your luck against the Gods who granted it in ancient times!
With an RTP of 96.5%, high volatility and a combination of Tumble and Multiplier features, Zeus scatters, Free spins round, an Ante Bet and a Bonus Buy feature, the odds are very much in your favour!
So keep reading this Gates of Olympus slot review to learn more about how to beat the Gods!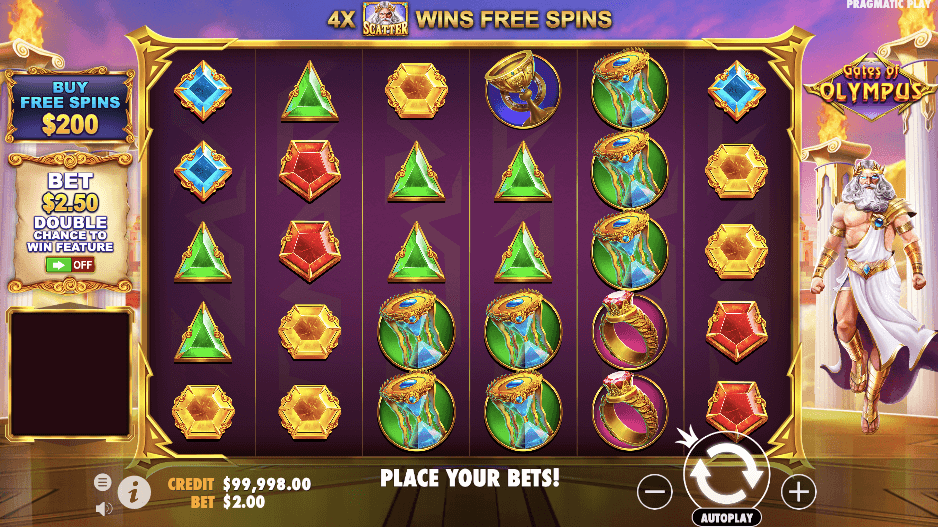 Gates of Olympus Review – Pass the Trials to Enter the Gates of Olympus!
Gates of Olympus is an interesting take on ancient Greek Mythology! There is no quest to be carried out in the name of Gods, but just one for yourself: entrance to the eternal city in the clouds of Olympus.
While the game requires you to make it to the bonus round to gain access, there are a few perks the Gods have laid out to help you, like the Bonus buy and the Tumble feature.
The high volatility might not work in your favour, but if you succeed in landing a win, there is a strong possibility it will be highly rewarding!
What we checked in Gates of Olympus
There is a very specific set of things we evaluate when carrying out a slot review. Below we've broken down our process. Click on the section that interests you to read about what we've discovered!
What is Gates of Olympus?
Gates of Olympus is a modern videoslot by Pragmatic Play, bearing a theme inspired by Greek Mythology. Let's delve a little deeper into what to expect!
GENERAL DETAILS
Slot type
Video slot
Number of rows
5
Provider
Pragmatic Play
Reels
6
Gates of Olympus looks very much like an ordinary videoslot. Its uniqueness lies in the Win-All-Ways mechanic and its combination of features, all of which we'll cover further in this Canada Gates of Olympus review.
Which Game and Bonus Features Gates of Olympus has?
| FEATURES | NO. | LIST |
| --- | --- | --- |
| BASE GAME FEATURES | 4 | Tumble Feature, Multiplier Feature, Ante Bet, Scatters |
| BONUS BUY FEATURES | 5 | Free Spins, Tumble Feature, Multiplier Feature, Ante Bet, Scatters |
| BONUS GAMES FEATURES | 5 | Free Spins, Tumble Feature, Multiplier Feature, Ante Bet, Scatters |
Impressive Base Game Features
The base game of Gates of Olympus is far from boring. The Win-All-Ways Mechanic delivers plenty of rewards, especially combined with the tumble feature. Add in multipliers, scatters and an Ante-Bet and this slot can pack quite the punch!
The Symbols
The most important symbol is Zeus' crown which can deliver up to $100 if you land anything from 12 to 30 on the reels.
Other symbols with a high value include a ring, a chalice and an egg timer. The low-paying symbols consist of precious gems of various colours and shapes.
The scatter is Zeus himself, and landing four or more will pay out anything from 3x to 100x your bet.
Gates of Olympus does not come with any wilds, which is unusual but not unheard of.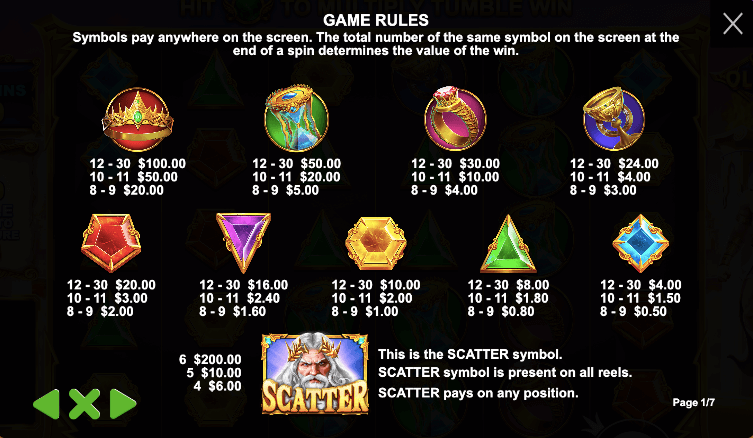 Win-All-Ways Mechanic
The slot does not come with the usual paylines, instead, it comes with a Win-All-Ways mechanic. Just as the name suggests, the feature allows you to win in all possible ways, making it a lot easier to land wins.
To add to the fun factor, the slot comes equipped with a tumble feature, allowing the symbols to shift once a winning combination pops off to possibly form more winning combinations.
Zeus Multipliers
Zeus' angry figure at the edge of the reels is there for a very specific reason. At random moments, the God of Lightning goes into action allowing winged orbs to land on the reels bearing a multiplier within that can range from 2x to 500x.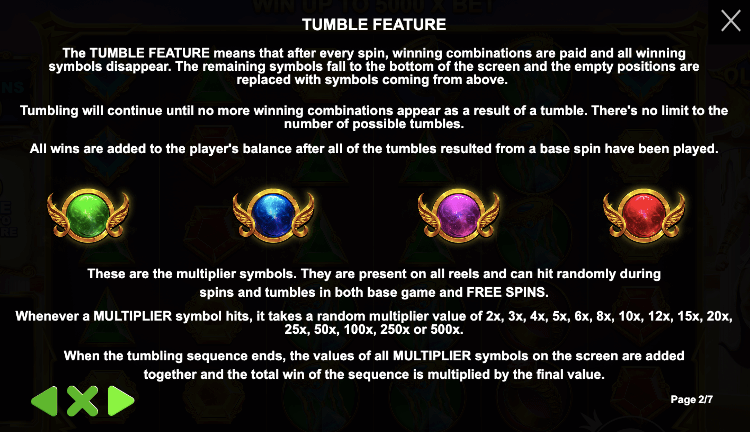 The Return To Player (RTP) Percentage
Gates of Olympus comes with an RTP of 96.5%, which is considered relatively high. In fact, this slot can easily fit amongst the best high RTP slots out there.
The Volatility
Gates of Olympus comes with high volatility, which is to be expected from Pragmatic Play. And, also quite appropriate if you want to play with some very volatile Gods!
The Maximum Win Potential
The maximum you can win while playing Gates of Olympus is 5,000x your stake. It is not the highest but when multiplied against the maximum bet of $125 it can land you a whopping $625,000.
Ante Bet Feature
The Ante Bet feature was designed to place more scatters on the reels and give players a better chance of landing a big win and also triggering the free spins round.
However, this feature does not come for free and requires you to pay an additional 25% of your bet.
A Bonus Buy that pays your way through the Gates of Olympus
Gates of Olympus comes with a bonus buy feature that enables you to pay a price and go directly to the bonus round.
BONUS BUY COSTS
Minimum-Maximum cost to buy the feature
100x
Bonus buy cost (how many times X base bet)
100%
Number of free spins unlocked
15 Free Spins
Like most Pragmatic Play slots, the bonus buy is priced at 100x your current bet. Just to make an example, if your bet is set at $2, then you'll have to pay $200.
While it might be possible to make use of it once or twice, paying that much each time can get expensive.
There is no minimum and maximum price, just the single price of 100x your current bet.
No Hold and Win Feature
Gates of Olympus has several features, but the Hold And Win is not one of them. If you haven't encountered it yet, it is a mechanic that is designed to unlock the bonus round.
The Bonus Game does not deliver as much action!
The bonus game consists of a free spins round that can start at 15 free spins. The Win-All-Way and Tumble feature work great, delivering a good percentage of wins, while Zeus comes into action often enough to deliver those multiplier-winged orbs.
That is all the bonus round is all about. There are no additional bonus features apart from the free spins, which are all that stand between the bonus round and the base game.
What Innovative Special Features can be seen on Gates of Olympus?
Gates of Olympus comes with some special features such as an Ante Bet, Autoplay options and a few other basic settings that these days are expected in all slots. Let's take a closer look!
SPECIAL FEATURES
Autoplay option
👍
Change the speed
👍
Mute the sound
👍
Adjustable bet size
👍
The Autoplay option is almost standard these days and it is ideal for those players who want to settle in for a long session on the same game. You can set it up to 1000 spins, while also selecting options like Turbo Spin, Quick Spin and Skip Screens.
Muting the sound and adjusting your bets have been standard for ages and expected. The minimum bet you can place is $0.20, while the highest possible is $125.
What's the Story behind Gates of Olympus' Theme?
Gates of Olympus is inspired by Greek Mythology. It takes place right at the gates of the eternal city of the Gods high in the clouds, on Mount Olympus.
While the slot does not follow a particular mythological story, it takes place right at the very edge of the fabled city, where a slightly ticked-off Zeus awaits, eyes blazing lightning blue, his body floating several feet over the ground, roaring with legendary power.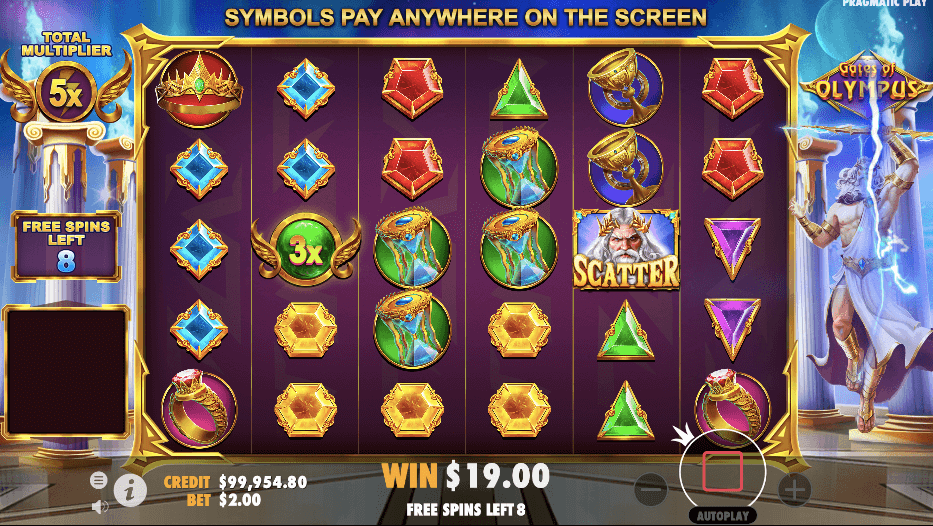 Ethereal Graphics for an Accurate Depiction of the Eternal City
In true Pragmatic Play fashion, the details are plenty and exquisitely rendered.
The reels are set in place of the gates of Olympus, behind which lies a great avenue leading up to the seat of the ancient Greek Gods. The avenue is lined with columns, crowned by a roaring fire.
Pragmatic Play went with the classic image of the God: long, white hair and beard, flowing white robe and golden armour around his calves, forearms and one shoulder.
Music invokes dread
The music is not exactly what one would imagine might grace the gates of the ancient city, unless, of course, you're about to face some challenge.
It invokes dread, which on second thought, is not exactly out of place given that Zeus looks ready to rain lightning bolts on anyone who dares approach.
When you spin the reels, additional sounds overlap the background music in an attempt to replicate the sound of magic.
Who Created Gates of Olympus?
Gates of Olympus was born from the studios of Pragmatic Play. A popular and well-known games developer, Pragmatic Play was launched in 2015 and was quick to gain success.
The provider is best known for its high-quality games, full of minute details, and complex in-game features that cover a variety of themes.
Pragmatic Play is also known for its use of the Megaways Mechanic and Bonus Buy feature. Furthermore, more of its games fall under the high RTP slots category.
A few of our favourite slots from Pragmatic Play we think you might enjoy!
Pragmatic Play has tons of slots in its repertoire. Below we've shared some of our most favourite titles, available at the best online casinos in Canada!
Conclusion – Is Gates of Olympus better than other slots?
Gates of Olympus may lack the intense action of other Pragmatic Play slots, but it is a solid, steady game with a lot going on.
The high volatility might limit the number of wins you can land; however, when you do actually trigger a winning combination, the reward will be juicy enough to make up for any dry spell.
If you're looking for riveting action, this might not be the slot for you, but if you're patient and looking for a quiet session on a slot without too much fanfare but enough to keep the coffers topped, then Gates of Olympus is a great slot to spin from Canada!
FAQs
Can you play Gates of Olympus from Canada?
Yes! Plenty of legal online casinos in Canada offer games by Pragmatic Play, including Gates of Olympus. These include the brands we've reviewed in the past on Cacasino.com.
Is Gates of Olympus safe to play from Canada?
Yes! Pragmatic Play is a highly reputable operator licensed in various gambling jurisdictions. Furthermore, third-party audits are carried out to make sure that the RNG that powers the game is random and, thus, fair.
How much can you win while playing Gates of Olympus?
The most you can win while playing Gates of Olympus is 5,000x your bet.
Is a Bonus Buy feature available in Gates of Olympus?
Yes! Gates of Olympus comes with a bonus buy feature that enables you to jump right into the free spins round for the price of 100x your bet.
How much are the minimum and maximum bets you can place on Gate of Olympus?
The minimum you can bet is $0.20, while the highest bet possible in Gate of Olympus is $125 per spin.
What is the RTP of Gates of Olympus?
Gates of Olympus comes with a relatively high RTP of 96.5%.